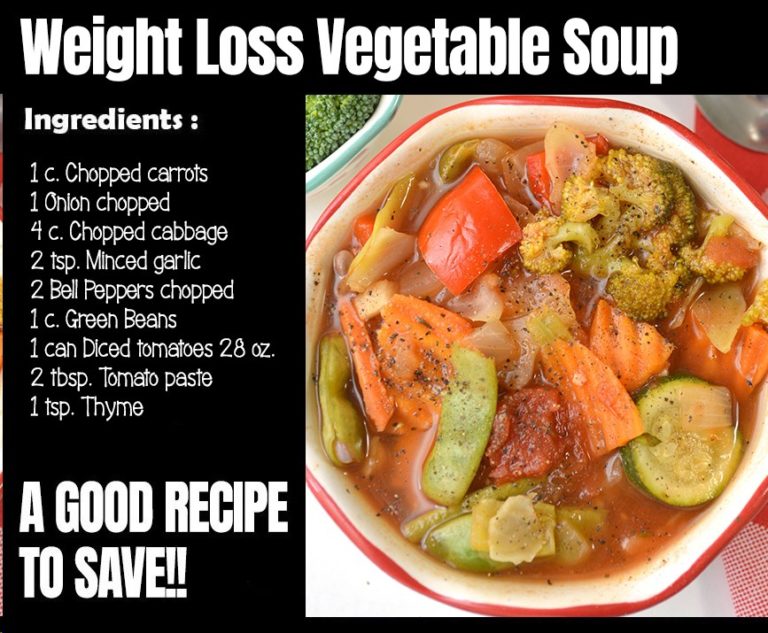 Whether you're trying to lose a few pounds after the holidays or just want to give your body a healthy jumpstart, this Weight Loss Vegetable Soup is for you. Similar to the famous weight loss cabbage soup, this is a low-calorie soup for weight loss that can help you shed a few pounds when eaten daily.
This is one of my go-to healthy soup recipes because it also tastes fantastic!
We've all heard about the famous weight loss cabbage soup diet by now. You know, the soup diet where you alternate between eating only fruits or only vegetables daily, along with as much cabbage soup as you'd like with the promise of losing up to 10 pounds in a week.
Sounds wonderful, right?
This cabbage soup diet isn't quite as extreme, and there's no restrictive diet attached. In fact, you don't even have to think of it as a weight loss soup. Think of it as a yummy veggie soup you can enjoy whenever you'd like.
Weight Loss Vegetable Soup
If you are trying to cut calories and lose weight, try replacing one meal daily with this amazing weight loss vegetable soup. It's naturally low in calories and packed with all kinds of nutrients, thanks to the variety of vegetables, so while you may not lose 10 pounds in a week, it's definitely an excellent place to start.
Even if weight loss isn't your goal, this low-calorie soup is a great way to feed your body the nutrients it needs. I'm sure we've all had those days where we've indulged a little too much, and our body is just craving something tasty.
Weight Loss Cabbage Soup
Like the traditional weight loss cabbage soup, this weight loss vegetable soup contains quite a bit of cabbage – four cups in fact. Why? Cabbage is a filling, low-calorie vegetable. It adds some oomph and substance to the soup without adding calories.
The base of the cabbage soup is beef broth instead of water, along with some tomato paste. I honestly can't imagine eating a low-calorie soup for weight loss made with just water. How flavorless does that sound?! The beef broth really adds some flavor.
As for the rest of the vegetables, what I've listed below is mostly a suggestion. The key is to have a variety of non-starchy vegetables. Basically, your soup should look the like rainbow to reap the health benefits truly. I recommend carrots (orange), peppers (red) and broccoli (green) as a base, then add whatever you'd like. This is a great way to clear out your fridge by using up whatever veggies you have left.
I know this cabbage soup diet will definitely be on my menu after the holiday season. I'm going to try to swap it out for lunch every day to get rid of this holiday bloat!
How To Make Weight Loss Vegetable Soup
When I think of healthy soup recipes, my mind always goes to this veggie soup because it is super flavorful and filling. It feels good to know I am eating something healthy that also tastes really good. Here are the easy-to-follow directions to make your own cabbage soup.
Step 1: Add diced onions and minced garlic to a pan with olive oil.
Cook until onions soften and are fragrant, which usually takes 5-7 minutes.
Step 2: Add in chopped cabbage.
Step 3: Toss in green beans and carrots in the pot.
Step 4: Cook for five minutes.
Note: The veggies will start to become tender and will start smelling good.
Step 5: Pour in diced tomatoes.
Using freshly diced tomatoes and canned tomatoes add loads of flavor to the healthy soup recipe.
Step 6: Add the bell pepper, tomato paste, thyme, basil, bay leaves, and beef broth to the pot.
You can add in some extra tomato paste if you want it to have a little more of a tomato flavor. Don't add any more than two additional tablespoons.
Yay! That's all you need to do to make this weight loss vegetable soup. Perfect for the soup diet or just to enjoy a tasty meal.
Weight Loss Vegetable Soup Variations
Whether you are wanting to be on the cabbage soup diet to jump-start weight loss or if you are just hungry for easy vegetable soup, you are in luck. There are always ways to adjust and change my recipes! I never want you to get bored. 🙂 Some of these ideas fit the cabbage soup diet, and some are to add in extra flavors. Try some of these ideas:
Chicken broth – Replace the beef broth with some chicken broth if that's what you prefer. It will taste wonderful either way.
Chicken – If you aren't trying to eat a soup diet for weight loss, add in some diced chicken for some protein.
Turkey – Use ground turkey for some extra heartiness to this cabbage soup.
Celery – It's a non-starchy vegetable that will be a great addition to the vegetable soup with cabbage. Plus, it's inexpensive too!
Mushrooms – Oh yummy mushrooms! They make everything, especially this homemade vegetable soup recipe taste better.
Cauliflower – The flavor of cauliflower pairs amazing with this cabbage soup. Additionally, it makes the soup even more filling.
How Long Does This Homemade Vegetable Soup Recipe Last?
The beauty of this and many other healthy soup recipes, is that they are made to last awhile. You can make the veggie soup early in the week and enjoy it pretty much all week. As it sits in the fridge, the flavors have even more time to come together too. On average the cabbage soup will last around seven days in the refrigerator. Always keep it covered in an airtight container.
Can You Freeze Weight Loss Vegetable Soup?
Yes, you can freeze this soup that is terrific for the cabbage soup diet! I recommend storing it in individual servings so you can just grab what you need when you need it. Then you don't have to worry about making a healthy lunch or dinner because it's already made. You can store the veggie soup in freezer bags or in an airtight container. Glass or plastic both work well.
What Kind Of Nutrients Is In The Cabbage Soup?
When you eat the cabbage soup diet, you aren't just losing weight. You are also getting lots of healthy nutrients that your body desperately needs. Here is a breakdown of the nutrients and minerals you get when you eat the best vegetable soup recipe ever!
Onions – Fiber, calcium, folic acid, high amounts of protein, and iron. Onions are also low in sodium, calories and fat.
Garlic – Vitamin B-6, selenium, fiber, calcium, copper, and potassium are just a few nutrients you get.
Cabbage – Whenever you eat cabbage, you get lots of fiber, vitamin K, vitamin C, folate, protein, and more.
Broccoli – Riboflavin, calcium, iron, vitamin C, vitamin B-6, protein and so much more.
Tomatoes – Lypocene is a much-needed antioxidant and tomatoes have lots! They also have potassium, vitamin C, and folate.
As you can see, you are getting an abundance of nutrients, minerals, and antioxidants from this cabbage soup.
Can I Make This Healthy Soup Recipe In My Instant Pot?
Yes, you can make this healthy soup recipe in your Instant Pot. It's effortless to use a pressure cooker for this cabbage soup. Plus, you only have to dirty one pot, so there isn't any additional cleanup. To make the homemade vegetable soup in the Instant Pot, you will need to saute the onions and garlic first. Then add in the green beans, cabbage, and carrots and saute for a few minutes, just like in the regular cabbage soup recipe.
Next, you will need to turn the pressure cooker on the soup setting. Cook for 12 minutes then let the weight loss vegetable soup do a natural release for 5 minutes. After the 5 minutes is up, do a quick release, and the veggie soup will be ready to serve.
What Do I Serve With Cabbage Soup?
Depending on how you intend to use the cabbage soup will make the most significant difference on what you serve with it. If you are planning to use it as a weight loss tool, then I don't recommend serving it with anything. However, if you are just planning to eat the soup because it tastes good, you can serve it with a bunch of different foods. Here are some of my favorites:
Dinner Rolls – There is nothing more delicious than dipping fresh baked warm bread into soup! Obviously, this wouldn't be a good idea for jump-starting weight loss!
Grilled Chicken – I love to eat a bowl of soup with a piece of protein-packed chicken. It's good for you and will help keep you full even longer.
Salad – Pretty much everything goes with salad, even soup! That's why so many restaurants serve soup and salad together because they are the perfect match!
Sandwiches – Any kind of sandwich you like, would go great with weight loss soup. I especially love grilled cheese or a roasted turkey sandwich.
Enjoy!