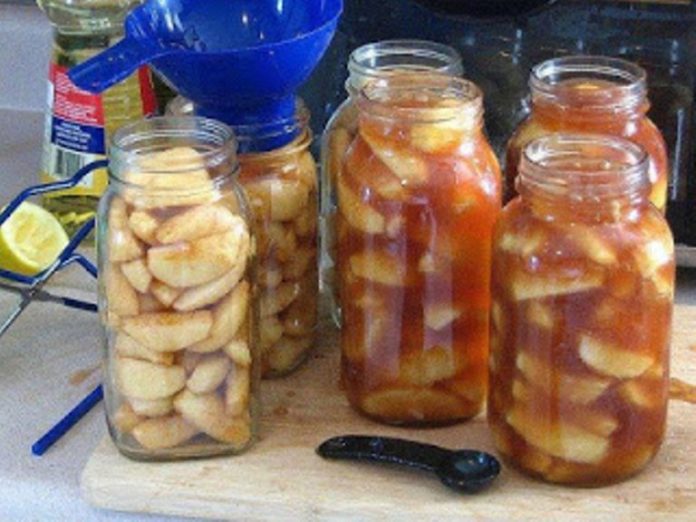 Homemade Apple Pie Filling – this easy recipe takes just a few minutes and tastes so much better than canned pie filling! Keep it in your freezer for when you want pie filling ASAP!
You never need to buy the can of pie filling again – just whip up this easy recipe to use for your pies or an easy side dish.
HOMEMADE APPLE PIE FILLING IS AN EASY RECIPE THAT IS BETTER THAN CANNED AND GOES SO WELL IN SO MANY FALL RECIPES.
Tips for perfect apple pie filling:
I like to slice my apples in chunks. I don't know about you, but the canned filling you get at the store has apples that are too big to eat! Chop them how you like to eat them.
The good thing about making this homemade is that you can add or reduce spices as you like. Love cinnamon? Add a touch more, or reduce it if you prefer it plainer.
You can also use your favorite kind of apples. I used a combination of Granny Smith and Fuji because it was what I had in my fridge.
I know some people prefer making apple pie filling without cornstarch, but find it's the easiest way to make it and you probably have everything already on hand.
Them mixture thickens as it cools so even though it looks loose after it's done, it'll thicken up quite a bit.
To Make this Recipe You'Il Need the following ingredients:
Filling Per Quart
Apples
Sugar
Corn starch
Ground cinnamon
Ground nutmeg
Water
Apple juice or apple cider
Lemon juice
Apple Crisp
Apple pie filling
Cinnamon
Brown sugar
Flour
Oats
Butter, melted
Filling Per Quart
5 apples
1 c. sugar
1/4 c. corn starch
1 tsp ground cinnamon
1/2 tsp ground nutmeg
1/2 c. water
3/4 c. apple juice or apple cider
2 tablespoon lemon juice
Directions
Core, peel and slice apples. Place in boiling water for 1 minute. Set aside and keep hot. Boil remaining ingredients until desired thickness. Barely let it reach a full boil. Fill hot sterilized quart jars alternating apples and syrup until it is almost full. Run a knife down the side to remove air bubbles. Add more apples and syrup. "Process in boiling water bath. Put jars in water bath pan or one that allows you to put water over the jars about 1 inch. Boil for 25 minutes".
Apple Crisp
1 qt apple pie filling
1/2 tsp cinnamon
1/2 c. brown sugar
1/2 c. flour
1/2 c. oats
1/4 c. butter, melted
Directions
Pour the pie filling into a pan. Mix remaining ingredients well and sprinkle over the top of filling. Bake at 375 for 20-30 minutes until golden
IF YOU LIKE THIS RECIPE.. YOU MAY ALSO LIKE:
Best Pineapple Pie Recipe EVER!