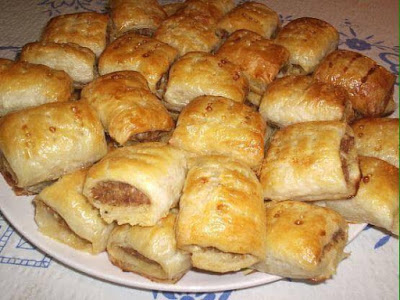 Ingredients:
6 pre-rolled puff pastry sheets, halved
1 lb ground sausage
1 cup fresh breadcrumbs
1 medium onion, finely chopped
2 tablespoons chopped parsley
1⁄2 cup milk
salt and pepper
1 egg
2 tablespoons milk
Directions:
Preheat oven to 425.
Lay all the sheets of pastry out on your counter top.
Mix together the sausage, breadcrumbs, onion, parsley, milk, salt and pepper.
The mixture will be quite sloppy – this keeps the sausage rolls moist.
Whisk the egg and 2 tablespoons of milk together in a small bowl.
Fill a large piping bag (no nozzle) with the mix and squeeze out a long line of mix down the long edge of the pastry, about 1/2 an inch in from the edge.
Roll up. Seal the inner edge with a little of the egg mix.
Cut each of these rolls in half. Prick each roll a couple of times with a fork. Repeat this until all the pastry and mix is used. Brush the tops of the rolls with the egg mix.
Place in the oven and cook for 5 minutes.
Reduce the heat to 395 and cook for a further 20 minutes.