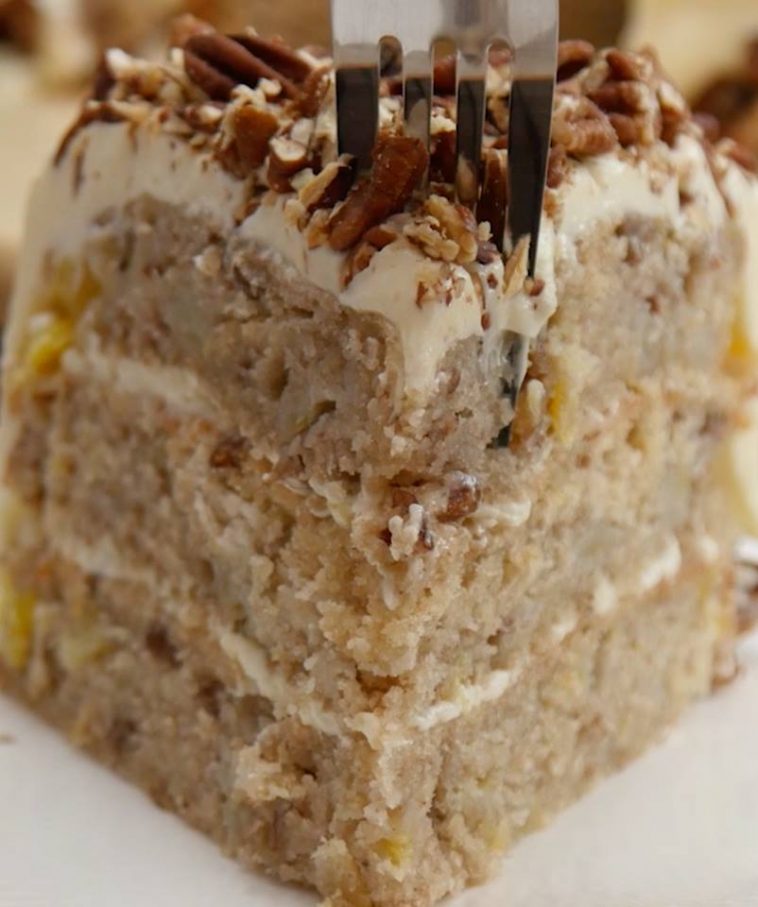 If you're from the South, there's a good chance you've already had the pleasure of eating this deliciously sweet banana-pineapple-pecan cake known for its very delicate name, hummingbird cake. If you haven't, you'll definitely want to give this recipe a try. This triple layer cake is the definition of sweet, moist, and delicious, with a delightful combination of banana, pineapple, and pecans. A hummingbird cake is a truly special treat, one that is sure to win the hearts and taste buds of anyone fortunate enough to grab a slice. Our recipe is an homage to the original, with all of the essential flavors (and layers!) to keep it authentic and simply amazing.
Hummingbird cake has become wildly popular in the United States, although the cake's origins are originally Jamaican. A hummingbird cake is a classic of the American South, a beloved dessert that families have enjoyed for decades. One slice and everyone will know why the hummingbird cake has stood the test of time. Each bite has the most amazing combination of creamy, sweet, fruity, and crunchy and with three tiers, it is an impressive cake to look at too!
Many a fond memory has been associated with this delightfully sweet and fruity cake. Perfect for dinner parties or a family gathering, a hummingbird cake is the best way to make family and friends feel special and eat well. It's fairly uncomplicated to make and of course, it's super easy to eat. We love all of the different layers of texture and flavor in a hummingbird cake, and while we might not look as dainty as a hummingbird while we're eating it, we sure can appreciate the inviting sweet taste of this amazing dessert.
Classic Hummingbird Cake
1 hour + cooling time to prepare serves 8-10
INGREDIENTS
2 cups pecans, roasted and chopped
3 cups all-purpose flour
1 ½ cups sugar
1 ½ teaspoons ground cinnamon
1 teaspoon salt
1 teaspoon baking soda
⅛ teaspoon ground nutmeg
3 large eggs, lightly beaten
1 ½ cups vegetable oil
2 ½ teaspoons vanilla extract, divided
3-4 medium bananas, chopped
1 (8 oz) can crushed pineapple with juice
2 (8 oz) packages cream cheese, softened
1 cup unsalted butter, softened
2 cups powdered sugar, sifted
PREPARATION
Preheat oven to 350°F. Coat 3 9-inch round cake pans with cooking spray. Line bottom of each pan with parchment paper and cover with cooking spray.
Spread pecans evenly on a cookie sheet and bake for 6-8 minutes or until just toasted and fragrant. For even results, toss pecans halfway through baking. Once cooled, rough chop and set aside.
Whisk flour, sugar, cinnamon, salt, baking soda, and nutmeg in a large mixing bowl. Add eggs, oil, and 1 1/2 teaspoons vanilla, stirring until just moistened.
Gently fold in bananas, pineapple, and 1 cup toasted pecans until batter has thickened. Pour batter evenly into prepared cake pans. Bake for 25-30 minutes or until toothpick inserted into center comes out clean. Cool in pans on a cooling rack for 10 minutes. Remove cakes from pan and cool completely. Once cooled, discard parchment paper.
Prepare cream cheese frosting. Beat cream cheese, softened butter, and 1 teaspoon vanilla extract until smooth. Slowly add powdered sugar, mixing on low speed until blended. Beat on medium speed for 3 minutes or until fluffy.
Place 1 cooled cake on a cake stand or serving plate. Top with ¼ cream cheese frosting. Top with second layer and top with ¼ cream cheese frosting. Top with third layer and spread remaining frosting over top and sides of cake. Garnish with reserved pecans.