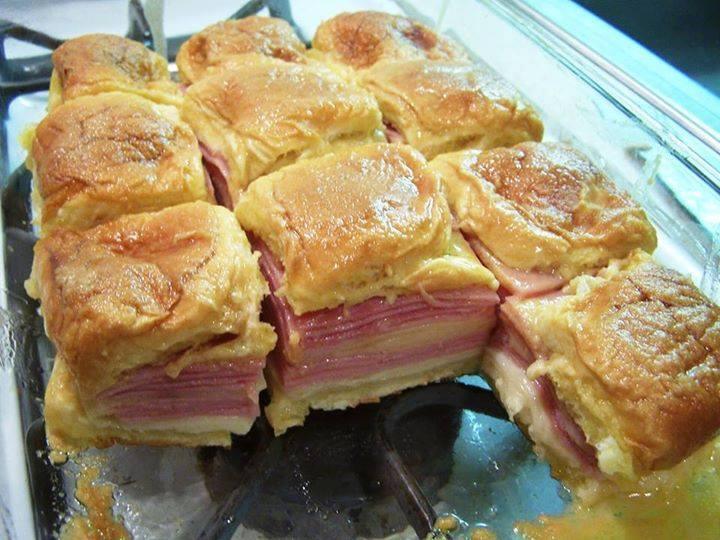 How to make it:
WHAT YOU NEED:
1/2 cup (1 stick) butter, melted
1 tablespoon honey mustard
1 tablespoon minced dried onion
2 teaspoons Worcestershire sauce
15 King's Hawaiian rolls
1 pound thinly sliced ham
About 10 slices Havarti cheese
HOW TO MAKE THIS :
1. If you are preparing this to eat right now, preheat your oven to 350 degrees F. Spray a 9×13-inch baking dish with nonstick spray.
2. In a medium bowl, whisk together the butter, mustard, onion and Worcestershire sauce.
3. Slice the rolls in half. The easiest way to do this is if you open the package and slice the entire chunk of rolls in half while they are still stuck together. Pull apart the bottoms of the rolls and place them in the prepared dish. Fold up pieces of ham to fit the rolls and place them on the bottom halves of the rolls. Layer a piece of cheese next, then more ham, then more cheese. Place the tops of the rolls onto the sliders. Drizzle a teaspoon of the buttery mixture over the top of each roll. If you have some of this mixture left over, you can make a few more sliders. Otherwise, drizzle the rest of the mixture over the tops of the sliders.
4. If baking now, place in the oven and bake for about 20 minutes- until the sliders are warmed, the cheese is melted and the tops of the rolls are lightly browned. If baking tomorrow, cover the pan with a sheet of greased foil and refrigerate. The next day, bake for 20 minutes with the foil on, then remove the foil and bake for an additional 10 to 15 minutes. Serve immediately!