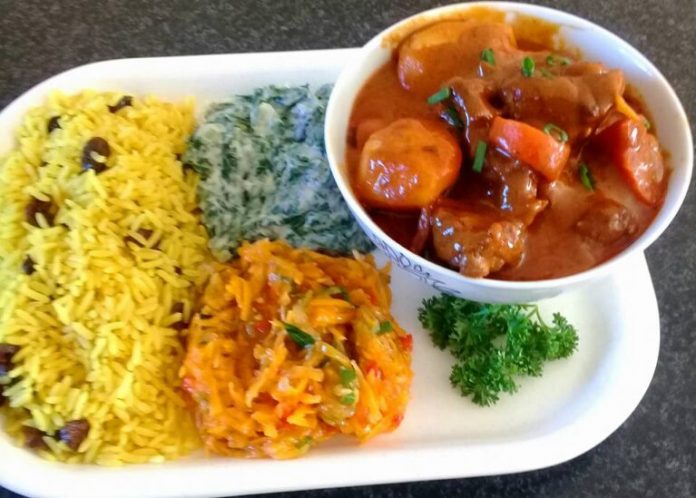 Ingredients
2cups rice, rinsed & drained
3cups water
1/4cup raisins
2Tbsp vegetable oil
1Tbsp brown sugar
2tsp turmeric
salt
pepper
Instructions
Rinse and drain the basmati in cool water. Add it to a medium pot with all remaining ingredients and bring to a happy boil.
Cover, then reduce the heat to very low and (barely) simmer for about 30 minutes. Enjoy those sweet bursts of raisin and the subtle, gorgeous glow of the golden turmeric.
Creamy spinach
I boiled spinach and added salt on another pot I prepared white sauce and then drained spinach of excess water and added my spinach.
White Sauce
INGREDIENTS
1 tbsp margarine
1 1/2 tbsp plain (all purpose) flour
2 cups fresh milk
1 tsp salt
Half tsp black pepper
Pinch Nutmeg
METHOD
1. Gather the ingredients you'll need together.
2. Melt the margarine in pot. Once margarine has completely melted add the flour.
3. Stir briskly until mixture become crumbly. Add your milk bit by bit and whisk, again briskly, to avoid getting lumps in your sauce.
4. Keep adding milk until you get the consistency you want. Add your salt, nutmeg and black pepper and whisk.
5. Your white sauce is ready. You may add grated cheese if you wish and make it a cheese sauce.
Sweetchillie Butternut
Ingredients
Butternut
Gherkins
Spring onions
Red pepper
Sweetchillie sauce
Black pepper
METHOD
Grate raw butternut and gherkins, chop red peppers and spring onions. Mix together in a bowl and dress with sweetchillie sauce and season with black pepper.
Beef stew a
½ kg stewing beef
1 onion, sliced
Ginger/garlic
Salt and bayleaf
Brown the meat and put it aside. Fry onions, and green pepper add salt, ginger/garlic paste, can of tomatoes, a spoonful of tomato paste and bayleaf. Add meat back in the pot. Add a cup of water.
Cook until water evaporates.
Add 1 tsp turmeric
1 tsp garum masala
1tsp Mother in law spice
½ cayenne pepper
1tsp Paprika
Mix .
Add vegetables – potato and carrots or any combo of chunky veg. And brown onion soup. Add water
Cook a little, then add ½ cup sourmilk
Put your casserole in an oven for 1hr.
Enjoy.
Credit: Bonakele Makgatho