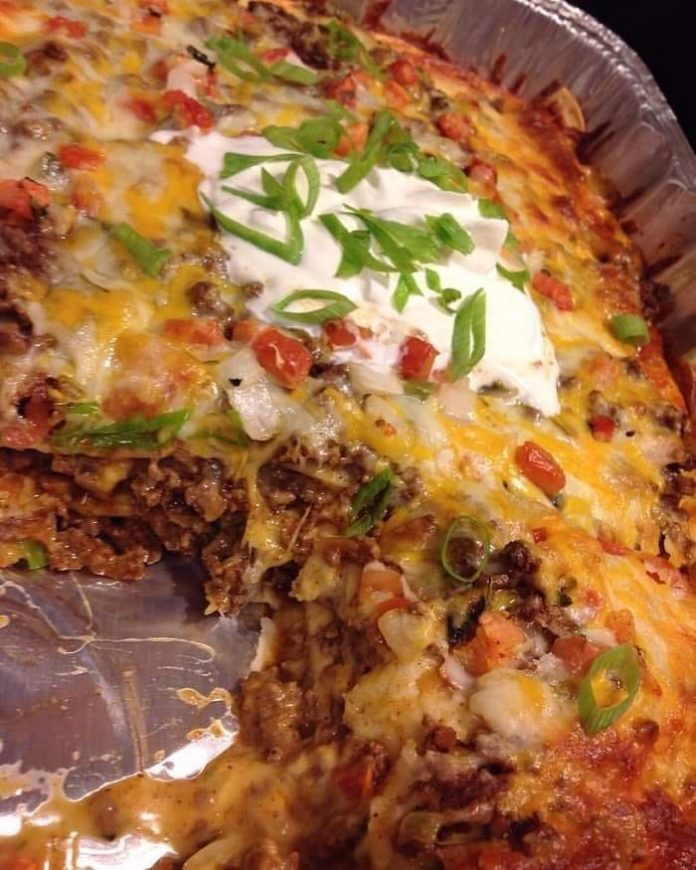 This walking taco casserole combines your favorite ingredients from a walking taco into a delicious casserole. Taco meat is layered in a baking dish with Frito chips, cheddar cheese soup and shredded Mexican cheese blend.
Once the casserole has finished baking, it is topped off with lettuce and tomato. If you want to add some beans to this dish, you can mix refried beans or black beans right in with the ground beef mixture. You can serve this recipe with sour cream and salsa if you would like. Enjoy.
Walking Taco Casserole
Ingredients :
1 1⁄2 pounds Ground Beef
1⁄3 large Onion, chopped
1 can Green Chilies, small can
1 can Enchilada Sauce
2 ounces Cream CheeseIngredients
1 bag Fritos Corn Chips
1 bag Shredded Cheese
3⁄4 cup Lettuce, shredded
1⁄2 cup Tomato, fresh, diced
16 ounces Salsa
8 ounces Sour Cream
Directions :
Brown ground beef with onion.
Add green chilies, enchilada sauce and cream cheese.
In a 9×13 pan, repeat layers as follows: Fritos chips Meat Mixture Shredded Cheese.
Bake at 350 for 15-20 minutes or until cheese is bubbly.
Top individual servings with lettuce, tomatoes, salsa, sour cream as desired.