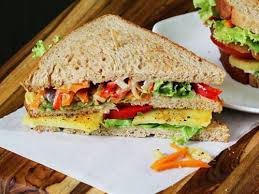 Ingredients
3 slices granary bread
1 large handful watercress
1 carrot, peeled and coarsely grated
small squeeze lemon juice
1 tbsp olive oil
2 dessert spoons reduced-fat hummus in a pot
2 tomatoes, thickly sliced
Method
Toast the bread. Meanwhile, mix the watercress, carrot, lemon juice and olive oil together. In
a small bowl spread the hummus over each slice of toast. Top 1 slice with the watercress
and carrot salad, sandwich with another slice of toast and top with the tomato.
Lay the final slice of bread, hummus side down, then press down and eat as is or cut the
sandwich into quarters.