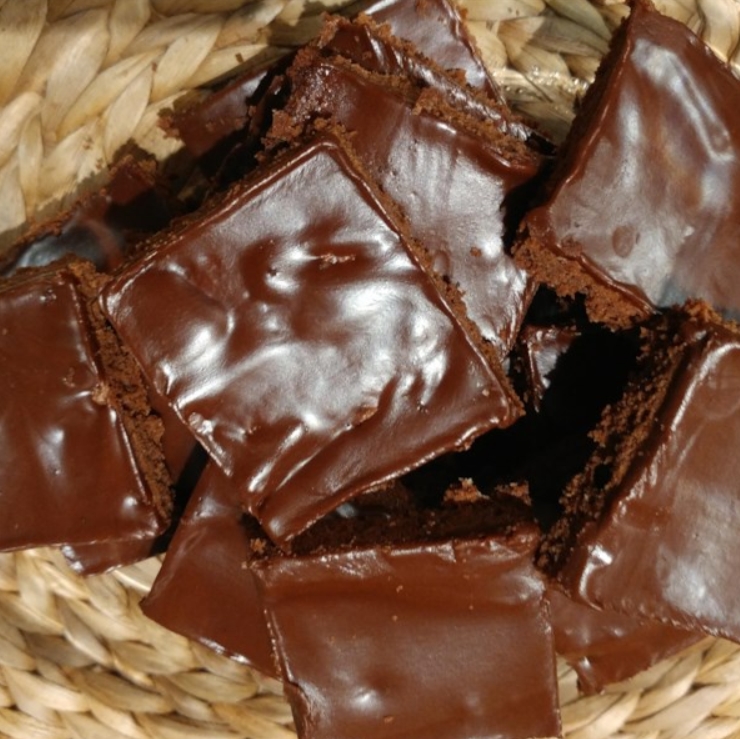 These are great! I changed the recipe to make them better for you. I used 1/2 c. applesauce instead of butter and 1/2 cup Equal spoonfuls and 1/2 cup sugar instead of 1 cup sugar and used egg substitute and omitted the glaze. They ended up with only 45 calories apiece and 0 grams of fat! they were SOOOO GOOOD!!! 🙂
If there's one word to describe these brownies, it's "perfection." They've got a dense and chewy brownie layer topped with a creamy, chocolaty frosting that's just what we need when a chocolate craving hits. Being the chocoholics that we are, these brownies are somewhat of a staple in our house.
These brownies are magnificent!!! I mean "melt in your mouth" and I didn't even make the frosting. I doubled the recipe and it still won't be enough. There are a few tips that will ensure your brownies are not cakey. I do not use a mixer because you can overmix your batter and whip too much air into the eggs. This makes your brownies have a cakey texture. Mix everything by hand in a bowl and lightly beat your eggs before adding them to the mixture. Gently stirring everything together makes them turn out better as opposed to franticly beating the mixture. Hope this helps, because I will NEVER buy brownie mix again.
These were the BEST BROWNIES even without the frosting. Just don't OVERBAKE/OVERMIX. When doubling, leave out one egg, keep the amount of salt at 1/4 tsp, and bake for 30-35 mins. You'll get a cakey on the outside, fudgey in the middle brownie. Delish!
There's something about homemade brownies that elevates the treat to the next level. Sure, boxed mixes are great in a pinch, but it's really worth it to take the extra 10 minutes to whip these babies up from scratch. And our buttermilk frosting is absolute heaven! We love taking these brownies to parties, picnics and bake sales (when we're in the mood to share) but at home, our brownies are delicious on their own, and even more fantastic served with a scoop of vanilla ice cream or some fresh fruit. Give our decadent frosted brownies a try the next time you need to cure a chocolate craving.
Wonderful little brownie! Not too thick, not too thin, just right! Comes together and into the oven in less than 5 minutes. I added about 1 additional T. of cocoa. Just mix all ingredients with a wooden spoon in the same pan as you melted the butter, about 50 strokes, just until good and combined. The frosting is glossy and smooth if you melt the butter first and add about 1 T. each of corn syrup and half and half. Cutting these with a plastic knife, even the disposable tableware variety, works great! Cuts cleanly, and not a crumb sticks to the knife. Had to try 3 of the brownies as soon as they were cooled, just to be triply sure they were good.
INGREDIENTS
1 (level) cup unsweetened cocoa powder divided; 3/4 cup for brownies, 1/4 cup for frosting
1 cup unsalted butter, divided; 3/4 cup for brownies, 1/4 cup for frosting
2 cups granulated sugar
3 large eggs, lightly beaten
3 teaspoons vanilla extract, divided; 2 teaspoons for brownies, 1 teaspoon for frosting
1 cup all-purpose flour
3 tablespoons milk
1 teaspoon white vinegar
2-3 cups powdered sugar
1/2 teaspoon salt
PREPARATION
Preheat oven to 350°F. Spray 9-by-11 inch baking dish with non-stick spray.
Microwave 3/4 cup butter in a large microwave-safe bowl in 10-second increments until melted. Add 3/4 cup cocoa powder and granulated sugar. Stir to combine.
Add eggs and 2 teaspoons vanilla. Stir to combine. Add flour and mix well.
Pour brownie batter into prepared pan and bake 25-30 minutes, or until toothpick inserted in center comes out clean.
Buttermilk frosting: combine milk and vinegar in a small saucepan. Allow to sit 5 minutes or until milk begins to curdle. Add reserved butter and cocoa powder. Boil mixture until butter is melted and cocoa is dissolved, about 10 minutes.
Add powdered sugar and reserved vanilla to frosting mixture. Whisk until thickened, about 5 minutes.
Allow brownies to cool completely. Spread frosting on brownies before serving.
From: allrecipes.com