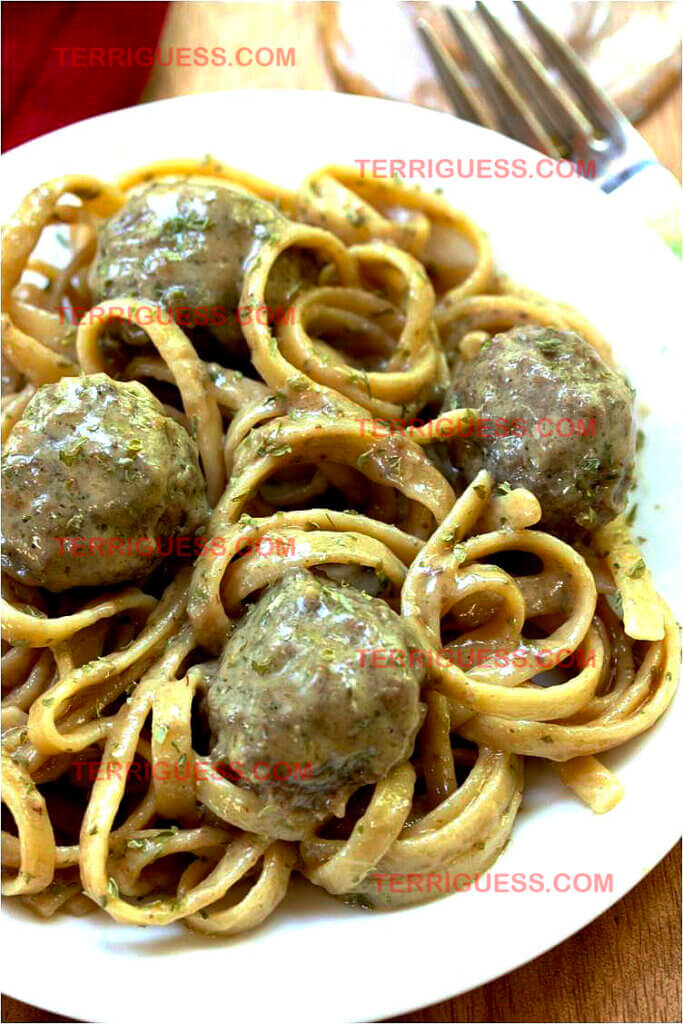 this is my seventh meatball recipe to date. I think I've realized something about the whole meatball thing. Aside from loving balls of meat, I think it has more to do with my sauce obsession. (Or gravy obsession, in this case).
But see, it's not socially acceptable to make a batch of gravy with nothing to eat it with. Right? So I figured, why not whip up some meatballs & pasta to go with it! Boom- no judgement.  And this gravy is KILLER too, nice & thick, flavorful, and great with these juicy meatballs.
Being alone in the house with something like this is not ideal. Well I mean it's HEAVENLY at the time, but afterwards…. Not so much. And now I have some explaining to do…
I could say I… dropped it on the floor? The dog ate it? Someone stole it? It's a figment of his imagination altogether?
I say I play dumb. "Um I don't know where it went- I'll go look." …Yeah? Think that'll work?
Okay but really, can you blame me?! LOOK at this plate! It's scrum-diddly-umptious, there's no denying that. Of course since I ate it all lost it, you'll have to take my word for it until you try it. It can be done in 30 minutes flat though, so don't you worry- you're not far away!
Ingredients
For the Meatballs
½ lb. ground beef
½ pound ground pork
¼ cup stuffing mix
1 egg yolk
Salt & pepper to taste
For the Sauce
2 Tablespoons butter
1 small onion, diced
1 Tablespoon flour
1 cup chicken stock
1 Tablespoon mustard
1 Tablespoon Worcester Sauce
1 teaspoon honey
1 cup heavy cream
1 Tablespoon dried parsley
Instructions
Preheat the oven to 250 degrees.
Mix all meatball ingredients and roll into balls about 1 inch thick.
As you roll the meatballs, heat the onions and butter in a medium saucepan on low heat until soft and translucent.
Increase the heat to medium low and add the meatballs until they're browned on each side, about 10 minutes total. Then place the meatballs in an oven safe dish and place them in the oven to keep warm and to continue cooking slightly.
Tip the skillet to gather all of the butter and meat drippings on one side, add the flour, and whisk until well combined.
Add the chicken stock and increase the heat, bringing the mixture to a boil- you'll notice it start to thicken. Add the mustard, Worcester sauce, and honey. Decrease heat back down to medium and whisk in the heavy cream. Add the meatballs back and coat in the sauce.
Notes
Serve over pasta, mashed potatoes, or even rice!