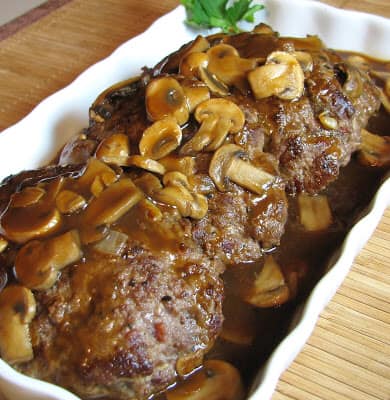 INGREDIENTS
For the steaks:
1.25 pounds ground beef, 90% lean

0.33 cup breadcrumbs

2 tablespoons minced onion

1 teaspoon Italian seasoning, or equal parts dried basil, dried oregano and dried thyme — OPTIONAL

1 tablespoon ketchup

2 teaspoons Worcestershire sauce

1 large egg, beaten

salt and pepper to taste

2 teaspoons olive oil
For the gravy:
1 tablespoon butter

0.5 cup sliced onion

8 ounces sliced mushrooms

salt and pepper to taste

1.5 cups beef broth

1 tablespoon ketchup

2 teaspoons Worcestershire sauce

1 tablespoon cornstarch

1 tablespoon chopped parsley
INSTRUCTIONS
In a large bowl, mix together the beef, breadcrumbs, onion, Italian seasoning, ketchup, Worcestershire sauce, egg and salt and pepper.

Form the meat mixture into 4 equal sized oval shaped patties.

Heat the olive oil in a large pan over medium high heat.

Place the patties in the pan in a single layer. Cook for 5-6 minutes on each side or until golden brown and cooked through.

Remove the meat from the pan. Place on a plate and cover with foil.

Melt the butter in the pan. Add the onion and mushrooms and season with salt and pepper.

Cook for 3-5 minutes or until vegetables have softened. Whisk in the beef broth, ketchup and Worcestershire sauce and bring to a simmer.

In a small bowl, mix the cornstarch with 2 tablespoons of cold water.

Add the cornstarch mixture to the pan and whisk until smooth. Cook for 1-2 minutes or until sauce has just thickened.

Add the meat back to the pan and spoon the gravy over the top. Sprinkle with parsley and serve.