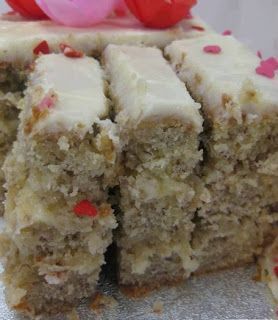 This is the Best Banana Cake I've ever tasted! There's nothing like a moist banana cake recipe from scratch with cream cheese frosting!"
You guys … I'm so in the mood for this banana cake! It's hard for me to say no to pretty much any dessert made with bananas … and this one is no exception.
A slice of this with some coffee?? It really is the best banana cake in the world!
This banana cake is baked low and slow at 275 degrees to help the cake retain it's flavor and to keep it really moist! Once it's baked, to keep even more moisture locked in, place it in the freezer to cool for about 45 minutes. When you remove it, make sure it's completely cooled before adding the cream cheese frosting.
I have no idea why this method works to keep it moist … but it does. Although it's completely optional!
I baked my banana cake in a 9″ x 13″ pan but you can also make this a banana bundt cake. If you choose to make a bundt cake, I would bake it at 325 degrees for 35-40 minutes.
Just make sure a toothpick inserted into the center is free from batter when you pull it out. You'll probably see a few moist crumbs … but that's what you want!
Ingredients :
1 1/2 cups bananas, mashed, ripe
2 teaspoons lemon juice
3 cups flour
1 1/2 teaspoons baking soda
1/4 teaspoon salt
3/4 cup butter, softened
2 1/8 cups sugar
3 large eggs
2 teaspoons vanilla
1 1/2 cups buttermilk
Frosting:
1/2 cup butter, softened
1 (8 ounce) package cream cheese, softened
1 teaspoon vanilla
3 1/2 cups icing sugar
Directions :
1 Preheat oven to 275°F /135C.
2 Grease and flour a 9 x 13 pan.
3 In a small bowl, mix mashed banana with the lemon juice; set aside.
4 In a medium bowl, mix flour, baking soda and salt; set aside.
5 In a large bowl, cream 3/4 cup butter and 2 1/8 cups sugar until light and fluffy.
6 Beat in eggs, one at a time, then stir in 2 tsp vanilla.
7 Beat in the flour mixture alternately with the buttermilk.
8 Stir in banana mixture
9 Pour batter into prepared pan and bake in preheated oven for one hour or until toothpick inserted in center comes out clean.
10 Remove from oven and place directly into the freezer for 45 minutes. This will make the cake very moist.
11 For the frosting, cream the butter and cream cheese until smooth.
12 Beat in 1 teaspoon vanilla.
13 Add icing sugar and beat on low speed until combined, then on high speed until frosting is smooth.
14 Spread on cooled cake.
15 Sprinkle chopped walnuts over top of the frosting, if desired ( or hearts!).
Source : allrecipes.com