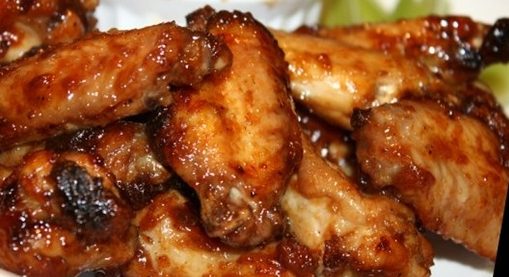 Ingredients
1/2 cup soy sauce
1/2 cup honey
1/2 cup apricot jam
2 tbsp oil
1 tsp vinegar
2 garlic cloves, chopped
1/2 teaspoon ground ginger
4 lbs. chicken wings & drumettes
How to make it
n a medium saucepan, whisk together soy sauce, honey, jam, oil, vinegar, garlic, and ginger. Bring the mixture to a boil, then lower heat and let gently simmer for 10 mins, stirring frequently.
Preheat oven to 375 degrees F.
Place chicken wings, split, into a 9- by 13-inch baking dish. Pour the soy sauce mixture over the chicken wings and toss gently until all of the wings are coated.
Bake until the chicken is cooked through and the skin on the wings begins to darken, turning the wings occasionally, about 1 hour. Serve.