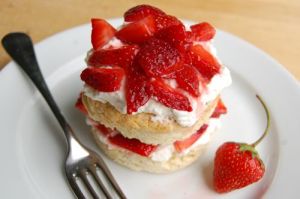 Strawberry Shortcake is a divine sweet food recipe with biscuits and topping.
Ingredients
Biscuits
1⅔ c very warm water
3 T honey
1 c rolled oats
1 c almonds
3 t baking powder
2⅓ c whole wheat flour
Stuffing
½ c chopped almonds
1 T maple syrup
2 c water
8 large strawberries
1 frozen banana
Topping
2 pints sliced strawberries
Instructions
Place honey in bowl with warm water and stir to dissolve. Set aside.
Place oats and almonds in food processor or blender and process until a fine meal.
In mixing bowl, combine dry ingredients, then add honey and water mixture. Stir together until slightly moistened.
Drop by spoonfuls onto a nonstick baking sheet.
Bake for 15 to 20 minutes at 400 degrees. Make about 12 biscuits.
Place all stuffing ingredients in blender and blend until creamy.
To serve, place biscuit in a bowl and top with sliced strawberries. Pour over topping and serve.