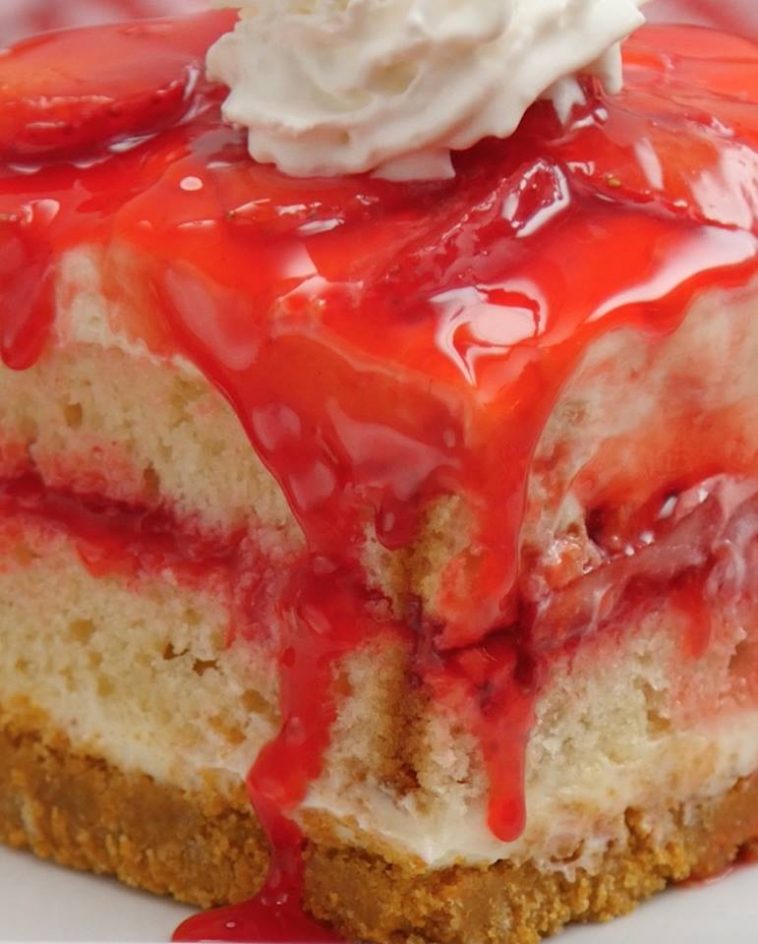 Strawberry shortcake is one dessert that we hate to share. It's just too good! Instead of constantly saying no, we came up with a solution: strawberry shortcake in bar form! Then everybody gets their fill of this sweet dessert.
Every layer of these Strawberry Shortcake Squares will keep you coming back for more. There's creamy cheesecake, a crunchy graham crust, tender pound cake, a sweet strawberry glaze, and of course fresh berries! But the best part might be is that you get a square all to yourself. No more sharing!
INGREDIENTS
1 1/2 cups graham cracker crumbs
1/4 cup sugar
6 tablespoons butter, melted
1 pound cake, cut into ¼-inch slices
8 ounces cream cheese, softened
1 cup powdered sugar
1 cup white chocolate chips, melted
¼ teaspoon almond extract
½ teaspoon vanilla extract
1 cup Cool Whip
2 pints fresh strawberries, sliced
16 ounce tub strawberry glaze
PREPARATION
For the crust:
Preheat oven to 350°F and lightly grease an 8×8-inch baking dish.
In a medium bowl, combine the graham cracker crumbs, sugar, and butter and mix well. Press mixture into the prepared baking dish and bake for 10 minutes. Set on a wire rack to cool completely.
For the cream cheese filling:
In a medium bowl, beat cream cheese with an electric mixer on high until smooth. Add powdered sugar, melted white chocolate chips, almond extract, and vanilla extract and beat until smooth. Fold in 1 cup Cool Whip and set aside.
For the strawberry glaze:
Set aside 4 strawberries for decoration. Add the remaining strawberries to a medium bowl. Add the strawberry glaze and mix until well combined. Set aside.
To assemble:
Once crust has cooled, spread half of the cream cheese filling over it. Place cake slices over the cream cheese filling, cutting cake slices as needed to fill in holes. Spread half of the strawberry mixture over the cake, followed by a layer of cake slices, the remaining cream cheese filling, and then the remaining strawberries.
Garnish with whipped cream and additional strawberries to serve, if desired. Enjoy!