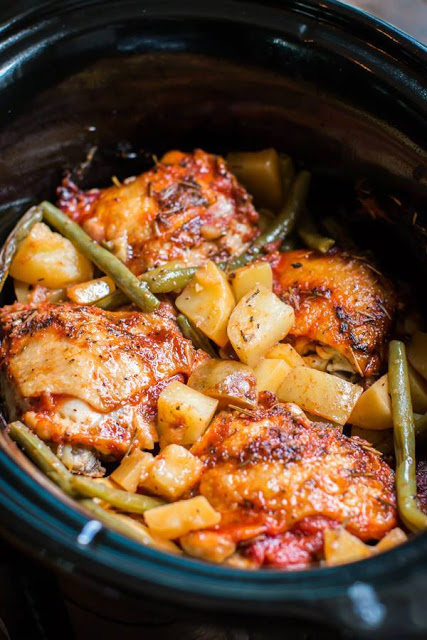 Slow cooker full chicken dinner
This tender, juicy crock pot chicken & gravy tastes like you've been in the kitchen all day.
When you're short on time nothing is more simple to prepare than a slow cooker whole chicken.
This slow cooker full chicken dinner has tender chicken thighs, Yukon gold potatoes, and green beans in a savory herb sauce.
You'll need:
4 bone-in chicken thighs cooking oil
1.5 lbs Yukon gold potatoes, diced
1 pound green beans, ends snipped
2 garlic cloves, minced
1 (8-oz) can tomato sauce (not paste)
1½ tsp. salt
¼ tsp. pepper
½ tsp. dried thyme
½ tsp. dried rosemary
How to make it:
Set a pan on the stovetop and set to medium-high heat.
Add enough cooking oil to coat the bottom of the pan. When the oil is hot.
brown the chicken on both sides, you don't need to cook the meat through.
Add the diced potatoes and green beans to the bottom of the slow cooker, toss them together to combine them.
Add the chicken thighs on top of the potatoes and green beans.
Add the garlic.
Drizzle over the tomato sauce then sprinkles over the salt, pepper, thyme, and rosemary.
Take a spatula and smear around the sauce trying to combine the seasoning into the sauce.
Cover and cook on high for 4.5 hours.
Do not open the lid during the cooking time or the potatoes will not get tender.
Serve and enjoy!
Enjoy…!
Don't forget to share this great recipe with your Facebook friends!!