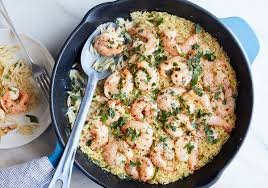 Ingredients
1/4 pound 21 count shrimp, about 6
1 large shallot, minced
2-3 cloves garlic, minced
2 Tablespoons butter
3 Tablespoons cream
Splash of white wine (optional)
1/8 Teaspoon crushed red pepper flakes (optional)
Parmesan cheese (optional)
Salt and pepper
Spaghetti
1/4 Cup reserved pasta water
Directions
Cook the pasta according to package. Reserve some of the cooking water for the sauce
later. Drain the pasta and set it aside.
Mince garlic and shallots and clean the shrimp if they aren't already cleaned.
Add butter to pot over medium heat. Once hot and melted, add the cleaned shrimp and
cook for 90 seconds per side. Then add shallots and garlic and cook for another 30 seconds
until soft.
Add a splash of white wine, and the crushed red pepper. Try not to overcook them.
Add cream to the shrimp and stir. The sauce should reduce nicely.
Add pasta back into the pot and stir to combine. Season with salt and pepper. If sauce is
too thick, add a bit of reserved pasta water to thin it out. Don't make it too thin though!