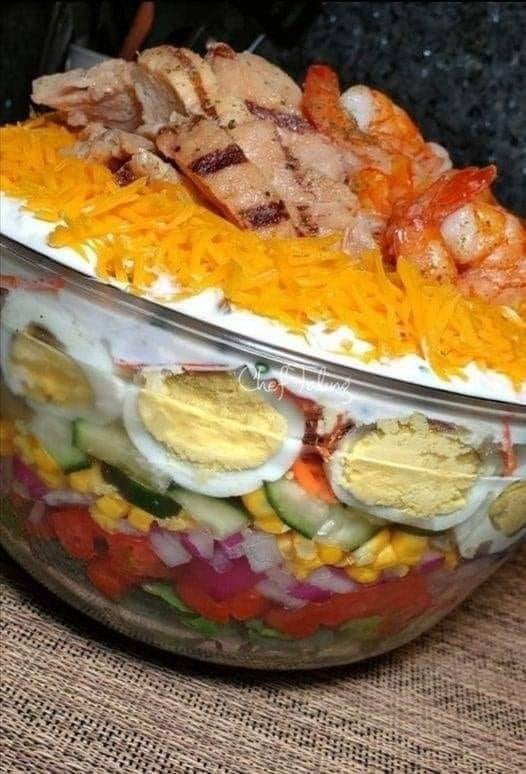 Ingredients
8 cups lettuce, chopped (the amount of lettuce is determined by the size of the bowl)
4 eggs, hard-boiled and sliced
8 strips cooked bacon, roughly chopped
1 1/2 cups cherry or grape tomatoes, halved
1/2 cup red onion, finely chopped
1 cup frozen peas, thawed
2 cups mild or sharp cheddar cheese, grated
4 green onions, tops sliced thinly, for garnish, optional
Dressing
1/2 cup mayonnaise
1/2 cup sour cream
1 tablespoon granulated sugar, to taste
Salt and pepper, to taste
Instructions
In a medium bowl whisk all dressing ingredients until well combined, set aside.
In a large glass container with straight sides, add lettuce.
Slice and add eggs, layering them along the sides.
Continue with additional ingredients, adding in layers.
Spread the dressing over the top layer.
Sprinkle with additional shredded cheese and peas and cover with plastic wrap.
Refrigerate for 4-6 hours or overnight before serving.
Before serving, add more bacon and green onions, if desired.
Store leftovers in the covered bowl in the refrigerator.