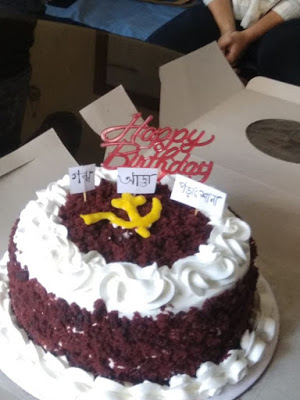 Red Velvet, which can be translated into French as 'rouge velours', is a cake that comes from the United States and comes in several forms: layer cake (cake with several layers separated by cream) or cupcake. This sponge cake combined with a very white melting cream is distinguished by its deep red color. It will delight the eyes and taste buds of your guests for the holidays and why not for Halloween!
* Ingredients:
* For the dough
° 300 g of sugar
° 250 g of flour
° 120 g of butter
° 2 eggs
° 24 cl of whole milk
° 15 g of bitter cocoa or unsweetened cocoa powder
° 1 sachet of baking powder
° 1 c. to s. white vinegar or alcohol vinegar
° 2 c. to c. vanilla extract or liquid vanilla
° Liquid or gel red dye
* For the cream
° 300 g of fresh Philadelphia cheese
° 250 g of mascarpone
° 120 g icing sugar, sifted
° 20 cl of heavy cream
° 1 c. to c. vanilla extract or liquid vanilla
* Preparation:
1 – Prepare the milk: mix the milk with the spoonful of white vinegar. Turn then reserve.
Preheat the oven to 180 ° C or Th.6.
2 -Prepare the dough: Mix the powdered sugar and the softened butter with a mixer. Beat the eggs in an omelet and add them to this preparation. Then pour in the cocoa and then the vanilla extract. Mix well.
Gradually incorporate the fermented milk, flour and yeast. When everything is well combined, add the coloring. If you are using gel dye 1 teaspoon should be enough, depending on the color you want.
3- Divide your preparation among the three molds then bake for about 30 minutes. You can check the doneness with the tip of a knife which should come out dry.
A few minutes after removing from the oven, turn out the cakes on a wire rack.
4 -Prepare the cream: beat the Philadelphia cheese with the mascarpone. Then add the icing sugar, the vanilla and the crème fraîche. Whip everything faster and faster to whip up the whipped cream. It should take on a nice consistency.
5- Arrange the Red Velvet cake: Place the first cookie on a cardboard support of the same size. So that it does not slip, put a few knobs of cream between the cardboard and the cake. Coat the cake with cream. Cover the cake with a thin layer on and around it.
6- Place in the fridge for 1/2 hour then finish coating with the cream for a clean result. You can finish the decoration by putting some of the cream in a pastry bag. This will allow you to nicely present your cake. If you have some, you can also spread out a few currants.
ENJOY!