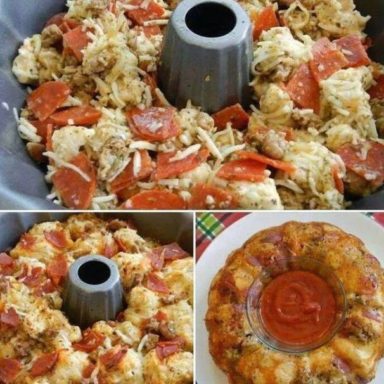 Probably no surprise here but… I'm a shorty. A whopping 5 feet 3 inches. I think I wear it well though and I'm a fantastic climber so the mugs on the top shelf of the cabinet won't elude my grasp for long. I'm also a stellar chair-getter and tippy-toe-reacher. And all things considered, it could be worse. My mother is 2 inches shorter and I am. And looks 20 years younger than she is so I'm hoping that gets passed on to me a long with the lack of height.
Instant Pot Pot Roast and Potatoes
Pause
Unmute
Remaining Time -1:12
Fullscreen
But why am I telling you how short I am? Excellent question my friends, excellent question. I wanted you to really be able to get the full effect of shock and awe when I tell you I've eaten an entire pizza by myself. I'm not talking about one of those little mini personal freezer pizzas. We're talking large hot-n-ready cheesy pepperoni pizza. The whole thing. Well…. except for the crust on the last slice. But come on. My stomach was literally about to burst. Like, tear at the seams. I had to be rolled out of the room because I'd lost all ability to stand up straight. I don't recommend trying this at home but… it's kind of awesome to say I ate a whole pizza. Just once. It's not like I do that all of the time people, come on.
Ingredients
1/3 cup favorite flavored dipping oil
2 teaspoons garlic powder
2 (16 ounce) pkgs pre-made pizza dough or homemade pizza dough
1 (7 oz) pkg sliced pepperoni
1 (8 oz) pkg shredded mozzarella cheese
Directions
1. Preheat oven to 375 degrees F
2. Separate pizza dough into small bite sized pieces.
3. In a bowl add your favorite flavored dipping oil. Toss dough pieces in dipping oil to lightly coat.
4. Layer dough pieces in bottom of bundt or fluted tube pan, next layer sliced pepperoni, shredded cheese and sprinkle with garlic powder. Repeat layers again, and end with final layer of dough pieces.
5. Bake in the preheated oven until the bread is browned and cooked through in the center, 30-40 min
6. Remove from oven, and invert the pan on a cutting board; the bread will fall out of the pan in one piece.
7. Serve by pulling the bread apart into individual servings with optional marinara dipping sauce on the side.
I usually layer until about 2/3 of the pan is full. Definitely plan for it to feed a hungry crowd. You can scale down the ingredients if you choose to feed a smaller crowd. You can serve it hot or room temperature