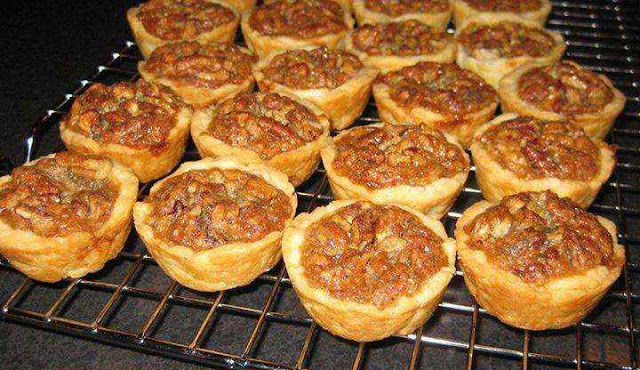 – THESE are a little too sweet. they puffed up when i pulled them out of the oven but deflated after a minute. like any other tart recipe, I made a variety – pecans, walnuts with choco chips, raisins, and cereal. what i do is i just add a tablespoon or more of the choices in the molded crust, mix the filling then pour it over the "variety" and crust. i didn't double the recipe and made 24 regular cupcake sizes. (by the way, i don't roll the dough. i divide it by 2. take one and divide it by 4, then divide those by 3s. repeat for the other one, and ask help from my 5-year-old daughter to mold the doughs :D).
– This was a great recipe – I used the frozen, pre-made tarts since I'm really not a pastry person, and they turned out wonderfully! Using the regular-sized frozen shells, this recipe made 13 tarts. I served them with a dollop of unsweetened whipped cream on top to counter the uber-sugariness of the tarts.
INGREDIENTS:
1- 3oz. pkg. cream cheese, softened
1 stick of margarine or butter, softened
1 C. flour
Dash of salt
Blend together cream cheese, margarine, flour and salt. Shape into 24 balls; press each ball into 1 3/4″ muffin tins (press dough in bottom and sides with fingers, do not leave any holes).
Filling:
2 eggs, beaten
1 C. brown sugar
2 T. margarine or butter, melted
1 tsp. vanilla
Dash of salt
1 C. pecans, chopped
DIRECTIONS:
Combine eggs, brown sugar, margarine, vanilla, and salt. Mix well (do not beat with beater, or tops will be crusty instead of a nutty one). Divide pecans evenly in pastry shells. Pour filling in shells, filling 2/3 full. Bake at 350 degrees for 20-25 minutes. Cool slightly before removing from pans. Cool on wire rack. Makes 24. "Nutty" rich–a real favorite.