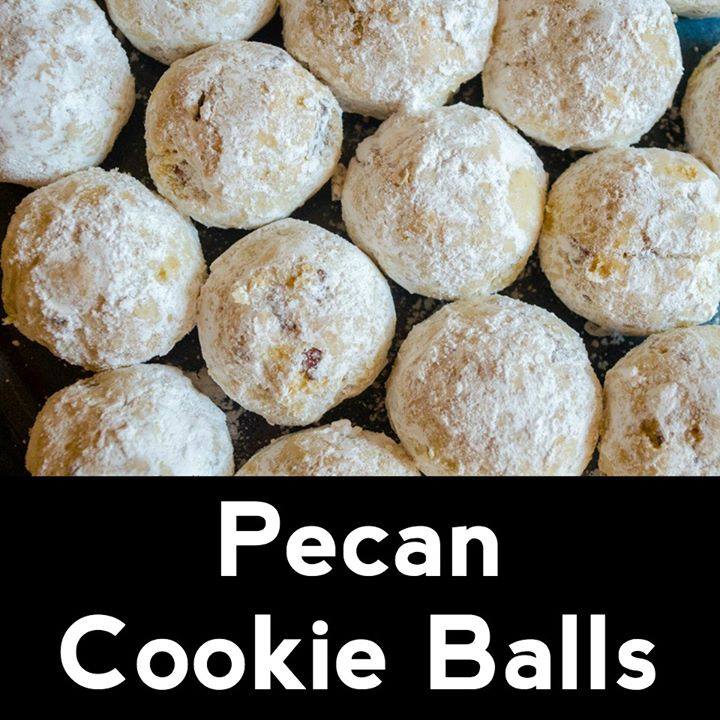 When I pulled this handwritten recipe out of the old recipe tin, I was intrigued. There was no title, just five simple ingredients, and a very short jumble of instructions. After looking over the ingredients: butter, flour, sugar, pecans, I figured that this recipe was for something similar to Mexican Wedding Cakes (which I've always loved) and so this card moved to the top of the stack of "must makes" for the Recipe Tin Project.
The Recipe Tin Project, as I fondly call it, is a little project where I am cooking my way through an old tin of handwritten recipes. It's chock full of old recipe cards – most of which seem to be from the '60s and '70s – and there are everlasting classics like Chocolate Cake and some not so timeless creations like Jellied Chicken Gumbo. To read more about the contents of the tin and the project, you can go to the first post here.
These little cookie balls fall into the "classics" category of that tin. They're buttery and crumbly and ridiculously easy. I'm a little bit in love with them.
I was right in that they are like Mexican Wedding Cakes. They're sweet, dense little pecan-speckled balls that are genius in their simplicity and utility. They are made of only five ingredients (six if you count the powdered sugar for dusting) and I doubt that there is an easier cookie out there to make.
The recipe card looks to me like something someone quickly jotted down to hand to a friend, forgetting the title and not even taking time to flush out the instructions. My guess is said friend took a bite of these and requested the recipe and the recipe was so simple that the woman scribbled it down from memory. She says to use "any amount of chopped pecans," which made me smile. I found 1 cup to be the perfect amount.
The ease of these sweet little spheres makes them perfect for holiday cookie parties or bake sales… this recipe makes A LOT. They're entirely too poppable though, and they'll be gone before you know it. A light dusting of powdered sugar is just the thing to surround their buttery, crumbly center; it contrasts so well with the salty, nutty pecans. These Pecan Cookie Balls are a total winner, and I know I'll be making them again and again throughout the years. This is definitely one to add to your own recipe box.
INGREDIENTS
3 cups all-purpose flour
1 cup (2 sticks) butter, softened
1/2 cup granulated sugar
1 cup pecans, chopped
1 cup powdered sugar (optional)
1 tablespoon vanilla extract
PREPARATION
Preheat oven to 400°F.
Combine all ingredients in a medium bowl and mix together with a fork. Roll into small balls (about 1-inch across) and place on baking sheet.
Bake 13-15 minutes. Let cool and shake in a ziploc big filled with powdered sugar to coat, if using. Enjoy!