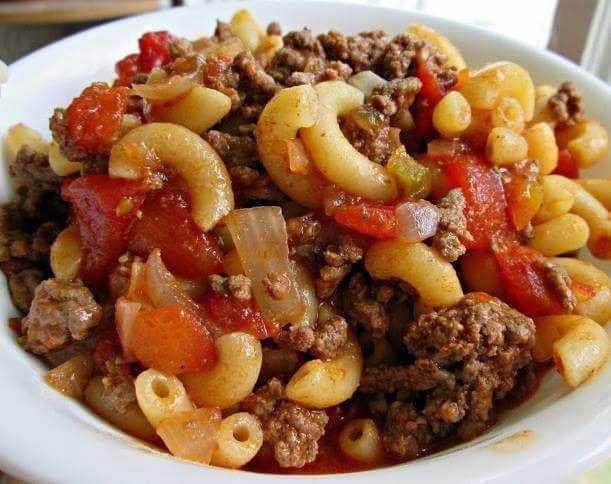 Ingredients:
1/2 lb macaroni
1 1/2 lbs ground beef
1 large onion, diced garlic salt, pepper, chili powder, & hot sauce to taste
2 (14.5 oz) cans whole stewed tomatoes, undrained
2 tablespoons ketchup
Tomato juice as needed
Instructions:
Cook the macaroni to al dente according to package directions. While it's cooking, brown the ground beef and onion together in an extra-large skillet or in a dutch oven.
Drain and season with spices to taste. In a large bowl, mash tomatoes with potato masher and add to beef along with the ketchup. Drain macaroni and add to the beef mixture, stirring well. Taste and add additional seasoning as needed.
I didn't need to add any tomato juice to mine, but if you like yours very juicy you can add as much tomato juice as you like. Phyllis adds it to her leftovers, which I would also recommend, because the noodles tend to soak up all the juice with time.