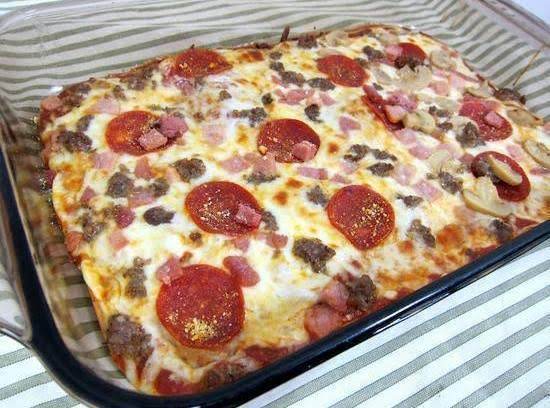 Gluten Free, Low Carb, Diabetic Friendly!!!!!!
For when you absolutely want pizza but not all the carbs!!!!!!!
Crust
1 (8 oz) package of full fat cream cheese, room temperature
2 eggs
1/4 tsp ground black pepper
1 tsp garlic powder
1/4 cup grated parmesan cheese
Topping
1/2 cup pizza sauce
1 1/2 cups shredded mozzarella cheese
toppings – pepperoni, ham, sausage, mushrooms, peppers
Garlic powder
Preheat oven to 350.
Lightly spay a 9×13 baking dish with cooking spray. With a handheld mixer, mix cream cheese, eggs, pepper, garlic powder and parmesan cheese until combined. Spread into baking dish. Bake for 12-15 minutes, our until golden brown. Allow crust to cool for 10 minutes.
Spread pizza sauce on crust. Top with cheese and toppings. Sprinkle pizza with garlic powder. Bake 8-10 minutes, until cheese is melted.