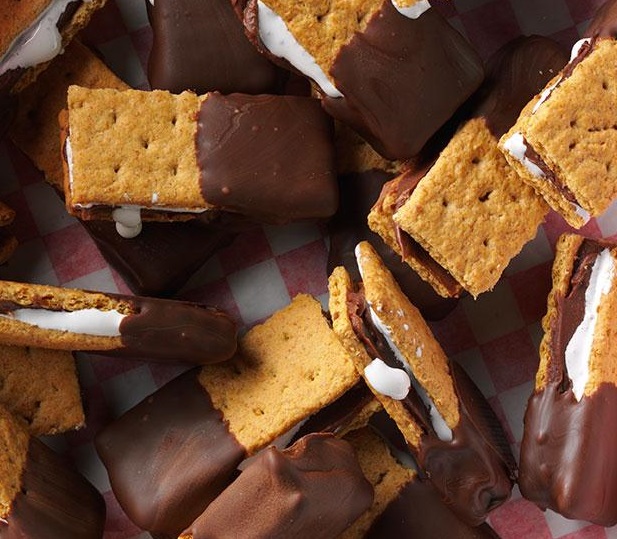 Ingredients
2 cups milk chocolate chips
1/2 cup heavy whipping cream
1 package (14.4 ounces) graham crackers, quartered
1 cup marshmallow creme
2 cartons (7 ounces each) milk chocolate for dipping
4 ounces white candy coating, melted, optional
Directions
Place chocolate chips in a small bowl. In a small saucepan, bring cream just to a boil. Pour over chocolate; stir with a whisk until smooth. Cool to room temperature or until mixture reaches a spreading consistency, about 10 minutes.
Spread chocolate mixture over half of the graham crackers. Spread marshmallow creme over remaining graham crackers; place over chocolate-covered crackers, pressing to adhere.
Melt dipping chocolate according to package directions. Dip each s'more halfway into dipping chocolate; allow excess to drip off. Place on waxed paper-lined baking sheets; let stand until dipping chocolate is set.
If desired, drizzle tops with melted white candy coating; let stand until set. Store in an airtight container in the refrigerator.