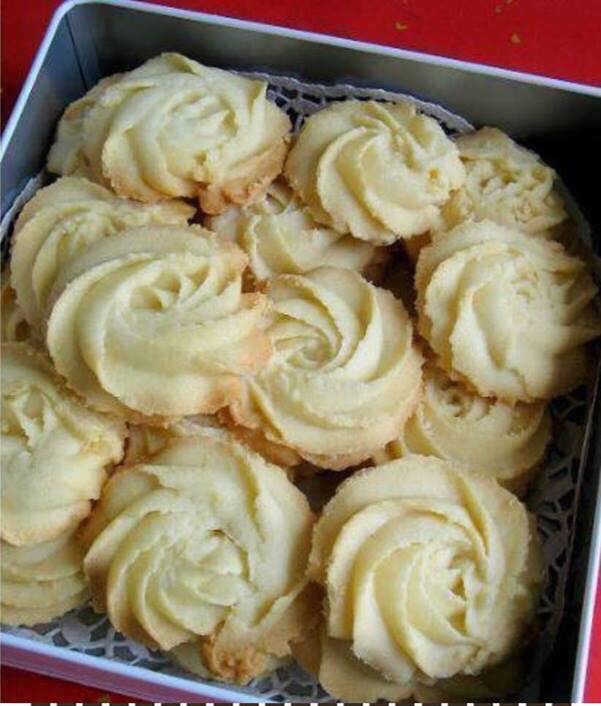 Fall in love with these four ingredient Melting Moments. These buttery shortbread cookies are sandwiched together with creamy vanilla buttercream and make for a beautiful sweet treat.
Homemade Melting Moment cookies on a white plate
I love seriously love Melting Moments 
These gorgeous sandwich cookies are made of two shortbread-like cookies squished together with homemade vanilla buttercream. But they're no regular shortbread cookie, these egg-free delights have a special ingredient that gives them unrivalled flavour.
If you love buttery cookies, you will go mad for these Melting Moments.
A plate of homemade cookies
Ever since I was a kid, I've always had a soft spot for Melting Moments. In fact, I remember when I was first creating this blog, I even considered naming it Melting Moments. See – true obsession.
And now I know why these plain-looking cookies taste so good. Made with butter, sugar and flour, there's a fourth ingredient that takes them to the next level flavour-wise – custard powder. That's also what gives them their typical yellow appearance.
I know that custard powder may not be available in other countries as readily as it is here in Australia, so I've also given an alternative, that yields a result pretty close to the original. Trust me – I ate my fair share of Melting Moments just to be sure.
A plate of Melting Moments
There's no eggs or raising agents, which means they are super simple to make. And they boast a unique buttery texture that means they literally melt-in-your-mouth -> get it?!
The final touch is a smothering of creamy vanilla buttercream. You could also colour your buttercream if you like – wouldn't these be cute with a blue or pink filling for a baby shower or the like?
Made with staple pantry ingredients, these Melting Moments will become that recipe you have up your sleeve for when impromptu guests rock up or you need a sweet fix stat.
INGREDIENTS
175g unsalted butter, softened at room temperature
40g icing sugar
1/2 teaspoon pure vanilla extract
175g plain flour
40g cornflour (cornstarch)
INSTRUCTIONS
With an electric mixer, cream butter and icing sugar together until pale and fluffy. Add the vanilla extract and beat for a few seconds.
Sift the flour and cornflour together over the butter mixture and mix until smooth.
Spoon the mixture into a piping bag fitted with a large star-shaped piping nozzle. Pipe into the required shapes on a baking tray lined with parchment paper. Space the shapes well apart.
Bake the cookies in preheated oven at 180degC for 12 minutes or until they are a pale golden colour. Leave for a few minutes on the baking tray to firm
Credit: Latest recipes and more