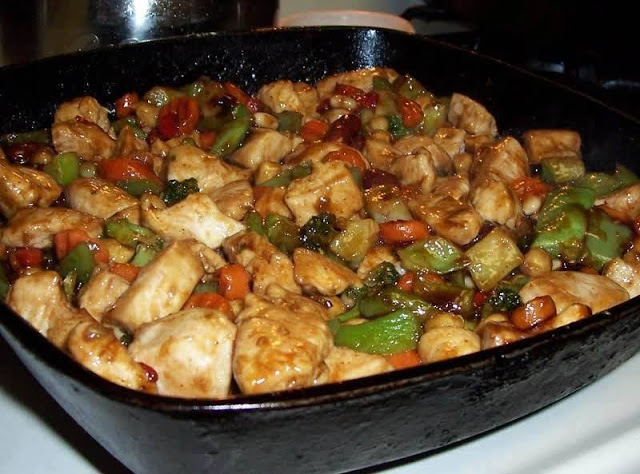 In Chinese cuisine, chicken happens to be one of the most popular ingredients Chinese people use to make some really tasty dishes. CHINESE CHICKEN RECIPE is absolutely delicious! It is going into your regular dinner rotation.
INGREDIENTS :
-4 boneless, skinless chicken breasts, cubed
-1/2 Tbsp cornstarch
-1 Tbsp soy sauce
-3 Tbsp peanut oil
-1 green bell pepper, sliced
-4 mushrooms, sliced
-1/2 lb snow peas, cut in half
-1/2 c cashews
-1/4 tsp ground ginger
-1/4 tsp cayenne pepper
-SAUCE INGREDIENTS
-6 Tbsp soy sauce
-3 Tbsp white wine
-1/2 Tbsp cider vinegar
-3 Tbsp brown sugar
-1 Tbsp cornstarch
-1 Tbsp oil
HOW TO MAKE :
1. including sauce mixture, Clean, cut and prepare all ingredients ahead of time.
2. Heat oil, add chicken and quickly stir-fry until done, over medium-high heat for 2 to 3 minutes, in a large frying pan or wok .
3. Set chicken aside on a plate after removing it from pan. Next, add chopped green pepper and mushrooms in the pan and stir-fry for approximately 2 minutes.
4. Add pea pods and nuts together and stir fry 2 more minutes then add ginger and cayenne and don't let it get too dark.
5. Put the chicken back to pan along with vegetables, add sauce and stir to finish it off.
6. Cover skillet and cook over medium heat for 5 minutes. Serve with rice.