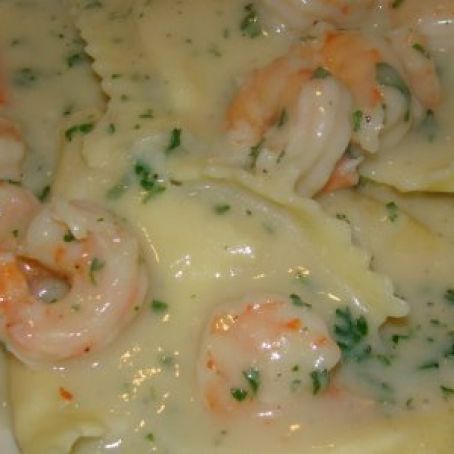 INGREDIENTS
1 (15-ounce) package lobster ravioli
1 large garlic clove, grated or minced
2 tablespoons Smart Balance 50/50 

butter

 blend
2 tablespoons flour
1/4 teaspoon sea salt
1/8 teaspoon black pepper
1/4 cup drinking quality dry white wine
3/4 cup low-sodium chicken broth
1 pound shrimp, shelled and deveined
2 tablespoons heavy cream
1/4 cup fresh parsley, chopped
1/3 cup Parmesan cheese, grated, plus more for garnish
PREPARATION
STEP 1
Bring a large pot of salted water to a boil. When it's ready, add the ravioli and turn off the heat. Cover and let cook gently in the very hot water while you prepare the sauce.
In large heavy sauté pan, sauté the garlic in the butter blend over medium heat briefly. Stir in the flour, salt and pepper, then the wine. Let the wine bubble up, then add the broth and stir till everything is mixed well.
Add shrimp and cook about 2 minutes, then stir in cream, parsley, and cheese. Taste to adjust seasonings, adding more salt if necessary. If sauce is too thick, add more broth. Remove from heat, cover and let the shrimp sit till the pasta is cooked and drained and ready for the sauce. Check the shrimp before serving to be sure it's done, but shrimp doesn't take long to cook. I used the 21-30 size which was perfect for this dish.
If desired, top with additional Parmesan cheese when serving, but don't overpower the seafood by adding too much. Serve with a green salad, if desired.