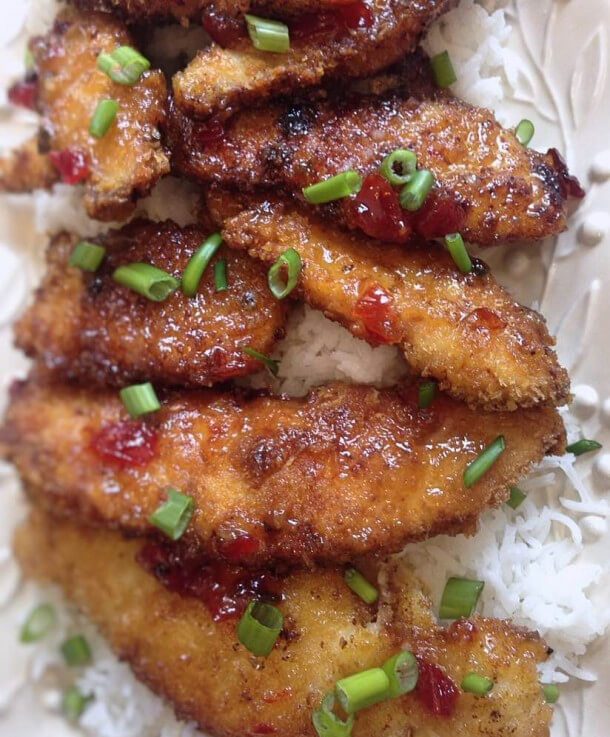 Sometimes I wonder if this whole living simpler and more relaxed has made me lazier? Simpler means taking a few shortcuts and relaxed is doing it with a cocktail in hand while humming Good Morning StarShine because who can resist a chorus like that? I guess lazy would be doing nothing at all, still with a cocktail, minus the humming. Summertime at Manderley Cottage has put me in a "Simplaxed" mode, a cool blend of simple and relaxed, a term that will someday catch on like like and cray cray and groovy.
For sure.
Lemon Pepper Chicken was me craving Lemon Chicken but not having any of the fresh ingredients in the house (how could I be out of lemons and garlic) and if I did, I didn't feel like rounding them all up. Like all ten of them, or twenty-two, I lost count. Therefore with a decently stocked pantry, and a wild imagination, then a toss of this and that, we dined on this tangy, sweet and spicy dish that came together pretty quickly. More quickly if I had used frozen breaded Chicken Tenders, but I am not that lazy. Okay, I am, except on that day. Although I did kick an ice cube under the fridge.
Gliddy glub gloopy, nibby nabby noopy, la la la lo lo…
Ingredients:
3 chicken breast halves about 1½ pounds
flour about one cup or more
buttermilk about 1½ cups
panko crumbs dip about 3 cups
oil for frying
⅓ cup lemon curd
1 cup pepper jelly
2 tablespoons rice vinegar
cooked rice
1 green onion
Instructions:
Filet 3 chicken breast halves then cut in half lengthwise. You should have about 18 pieces.
Now flour> buttermilk> panko crumb dip the chicken, in that order. Pan fry in oil over medium heat. Keep cooked pieces warm in oven until all are fried up.
Heat ⅓ cup lemon curd, 1 cup pepper jelly, and 2 tablespoons rice vinegar until warm.
In a very huge bowl layer chicken with heated sauce and gently toss.
Serve over bed of cooked rice and garnish with green onions.
Notes:
If you really want to save time and steps, use your favorite frozen brand of breaded chicken fingers or tenderloins, about 18 pieces should do the trick. And bake them. Did I have to tell you that?