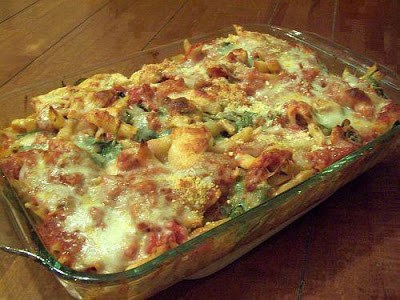 This Italian casserole makes a great weeknight family meal. The young kiddos will love this because it's not overly spicy and has all the foods younger children like to eat.
If you double the recipe, this is also a wonderful meal to bring to covered dishes and pot luck suppers. In fact, I think this recipe was originally in a pot luck cook book that I had years ago.
The original didn't call for any cheese mixed in the filling, however, I added some shredded cheese in there. You also get a nice thick layer of cheese on the top which even tastes great when the casserole is cooled. I introduced a bit of Asiago cheese into the topping, but you can easily leave that out, especially if you're feeding very young kids who may not appreciate the taste.
Ingredients : 3 pounds chicken breasts (cooked & cut into bite-size pieces)
6 Italian sausage links
2 jars of spaghetti sauce (I use Hunt's in the can – cheaper & just as good!)
1 pound of pasta, penne, macaroni, shells or whatever you like
1 large package of pizza cheese
1 onion
2 large bell peppers – red & green, cut into chunks
Directions :
Cut up chicken, onion, peppers, and sausage.
Boil pasta and drain (don't overcook)
Mix pasta, sausage, onion, peppers, chicken, and sauce.
Put in a large deep dish. If it won't all fit, make a little side dish to freeze for lunch later.
Top heavily with cheese.
Bake at 325 degrees for about 45 minutes or until golden and bubbly.