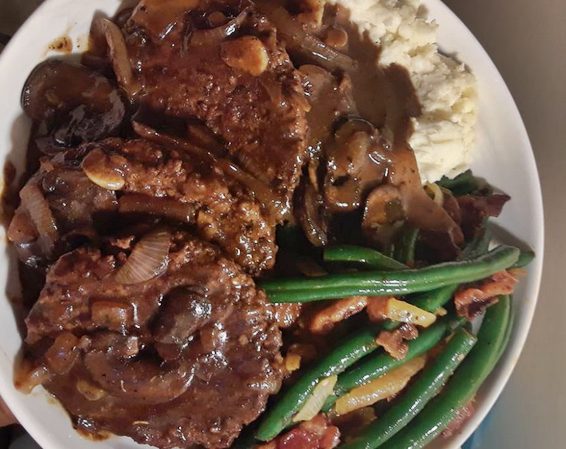 How To Make Hamburger Steaks With Onion And Mushroom Gravy:
Mash potatoes.
Green beans with bacon.
Ingredients:
2 lbs 80/20 ground chuck.
1/2 cup bread crumbs.
1 egg.
1/2 cup milk.
1 tsp salt.
1 tsp black pepper.
2 tbsp dried beefy onion mix.
2tbsp Worchestershire sauce( i used one tbsp too much salt).
1tbsp better than bouillon beef base.
2 medium onions.
2 cups mushrooms.
4 cups beef broth.
1 tbsp corn starch.
Directions:
In a large bowl add ground beef,bread crumbs ,egg,milk,salt black pepper, dried onion mix ,and Worchestershire sauce mix well form into patties of your size.
In a large skillet heat 1 tsp of oil add the patties to brown about "5 minutes per side.
When browned remove set aside .then add onions and mushrooms sautee for another 3 minutes then add the mix the cornstarch with the beef broth then add beef broth and beef bouillon to the pot now add back the patties to cook for "45 to 50 minutes until it comes down to your desired thickness .
Enjoy!