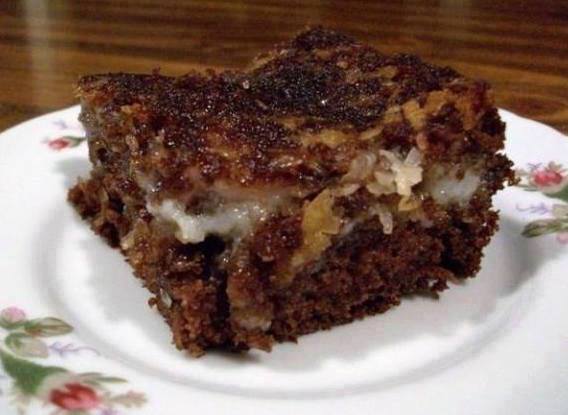 Need something different to take to the next pot luck or church social?
German Chocolate Upside Down Cake is a very quick and easy cake to make using a box of German Chocolate cake mix.
I try a lot of German Chocolate recipes and find the combination of chocolate, pecans, and coconut to be irresistible. This isn't the prettiest cake, but when you take into account that it is totally fuss-free, I can overlook that fact.
HOW TO MAKE GERMAN CHOCOLATE UPSIDE DOWN CAKE:
A mixture of butter, brown sugar, coconut, and pecans is spread on the bottom of a 9X13-inch pan.
Next comes the cake batter which is a box of cake mix prepared just like the back of the box says to, with a little coconut added. I don't think it's possible for a German Chocolate Cake to have too much coconut.
Before the cake is placed in the oven to bake, dollops of cream cheese are dropped all over the top. As the cake bakes, the cream cheese sinks down into the cake, making it rich and gooey throughout.
Just look at all that gooey cream cheese! Doesn't it about make your eyes pop out of your head?
Get all the taste of a fancy German Chocolate Cake without all the fuss!
Ingredients
1 cup sweetened flaked coconut…
1 cup pecans, finely chopped
3 1/2 cups powdered sugar
1 cup margarine, melted
8 ounces cream cheese, softened
1 (18 ounce) box German chocolate cake mix (with pudding)
1 1/4 cups water
1/3 cup oil
3 eggs
Directions
1 Preheat oven to 375°F Grease and flour 13×9 inch pan. Sprinkle coconut and pecans evenly over the bottom of the pan and set aside.
2 In a large mixing bowl, mix cake mix, water, oil and eggs as directed on the box. Carefully pour batter over coconut and pecans in prepared pan.
3 Mix melted margarine, cream cheese and powdered sugar in large bowl on low speed for 30 seconds, or until well mixed. Increase mixer speed to medium and beat 30 seconds more, or until smooth.
4 Spoon cream cheese over batter, leaving a 1 inch border of batter around the sides of the pan, and smooth with spatula.
5 Bake for 43-48 minutes, or until the cream cheese mixture has turned golden brown and the cake springs back when touched lightly.
6 Remove from oven and set cool for 20 minutes. Run a sharp knife around the edge of the cake and invert it onto serving platter. Let rest for 20 minutes more, then slice and serve.
Recipe Source : Just A Pinch