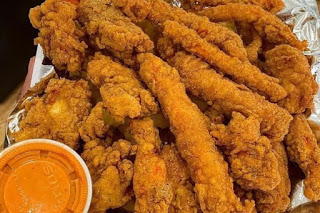 DEEP FRIED CRAB  LEGS NO SHELL
SERVES: 4-6
INGREDIENTS
Nutrition
2 lbs crab legs (the bigger the better!)
38 saltine crackers (1 whole sleeve)
1 -2 teaspoon garlic powder
cayenne pepper(optional)
1⁄2 cup butter
2 -3 eggs, beaten
flour (for dredging)
chopped parsley(optional)
chives (optional)
lemon wedge, cut up
DIRECTIONS :
Crack legs and remove meat trying to get out whole pieces, picking out the joints and such is a great way to reserve meat for another recipe like stuffing for mushrooms etc so don't waste.
crush crackers in a food processor (preferred method) until fine or use a freezer bag and crush with a rolling pin or a bottle (this method doesn't get them as fine as I like though).
season one side of legs with garlic and cayene (or use the.
seasonings you like).
roll crab in flour then egg and last in crackers, place on a plate or cookie sheet until all are ready to fry.
heat butter in a non-stick skillet on med heat until melted and add crab to pan cook a few minutes and turn. should be a light brown.
turn again to allow further browning, remove to paper towles to drain excess grease
serve while hot with lemon wedges and garnish with chives or parsley if desired.