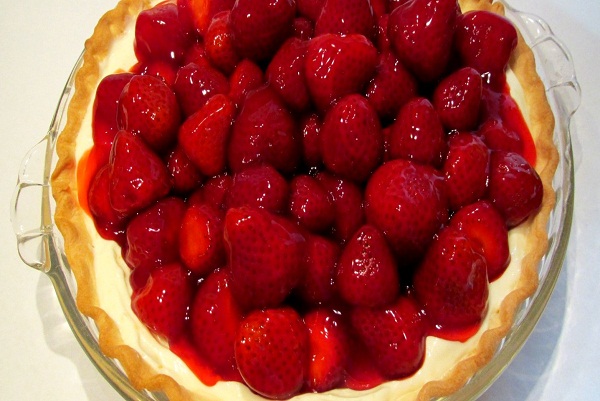 Ingredients
1¼ cups graham cracker crumbs
2 tablespoons reduced-fat butter, melted
2 (8oz) packages reduced-fat cream cheese (I like Philadelphia 25% less fat)
2 egg whites
1 egg
1 cup sugar
½ cup fat-free sour cream
2 teaspoons vanilla extract
1 teaspoon lemon juice
3 cups whole strawberries
½ cup Marie's Glaze for Strawberries, see shopping
Directions
1. To make the crust: Preheat oven to 350 degrees. Coat a 9-inch spring-form pan with cooking spray.
2. In a medium bowl, combine graham cracker crumbs and melted butter. Press into the bottom of the coated pan. Set aside.
3. To make filling: Using an electric mixer, or hand mixer, beat the cream cheese until fluffy and smooth. Slowly mix in the egg whites, egg and sugar until smooth. Stir in sour cream, vanilla and lemon juice. Pour batter over the crust and carefully spread evenly.
4. Bake for 35-40 minutes until the center is set. The outer sides might still be a little jiggly. Cool and refrigerate in the pan for at least 6 hours before serving to set.
5. To make topping: After the cheesecake has been refrigerated for 6 hours the topping can be added. In a bowl add the strawberries and Marie's glaze. Using a rubber spatula gently blend the berries and glaze. Remove the cheesecake from the spring-form pan and place on a serving plate. Spread the strawberry pie topping evenly over the top of the cheesecake.
6. Refrigerate left-overs for up to one week.
Makes 12 servings (each serving 1 slice)
Nutrition Facts
for 1 slice
233 calories
9g fat
3g sat fat
7g protein
32g carbs
1g fiber
313mg sodium
29g sugar