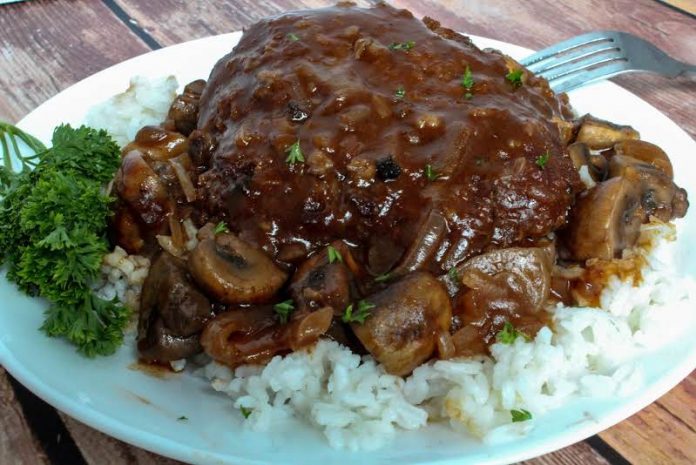 Ingredients
1/2
 tsp Season-All (optional)
1/2
 tsp taco seasoning mix (optional)
1
 Tbsp Worcestershire sauce
salt and pepper, to taste (for beef)
Directions
1.
 Pre-heat oil and butter in heavy skillet on medium to med-high heat. While heating, slice an onion and cut mushrooms into quarters.
2.
 Slightly pound the cube steaks. One pound of cube steak should equal 4 portions of the beef. If not, cut the steaks to make 4 servings. Salt and pepper to taste.
3.
 Mix together the flour, Panko, and seasonings (NOTE: instead of Season All seasoning, we use Bucks Multi-Purpose Seasoning, which is a great seasoning for many foods).
4.
 Dredge the cube steaks in the flour mixture and place in the heated skillet. Cook approximately 3 minutes on each side then remove from the skillet.
Family Favorite Swiss Steak With Tomato Gravy
5.
 Add onions and mushrooms to the skillet. Saute for approximately 4 to 5 minutes until onions are translucent.
6.
 Add 2 tbsp of flour to the pan and stir until incorporated into the onions and mushrooms. Add the wine and stir to incorporate pan drippings. Then add the water, package of dry onion soup mix, Worcestershire sauce, and 2 tbsp tomato paste.
7.
 Return the cooked cube steaks to the gravy mixture. Place lid on pan and cook on low heat for 10 to 15 minutes until desired doneness. Serve over rice or with mashed potatoes and a vegetable of choice.
Last Step:
Don't forget to share!