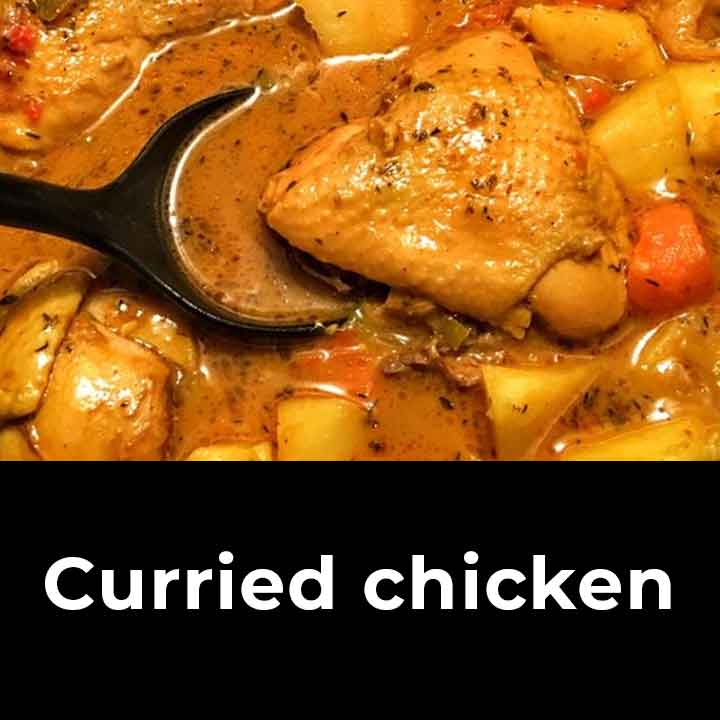 Chicken Curry is a rich and aromatic dish that my whole family loves! 
Tender chicken in a flavorful sauce is served over white rice. This coconut curry chicken is fragrant and offers complex flavors in an easy to make recipe.
One of my favorite things to do is explore the world with my taste buds. A few years ago my husband and I were able to visit South Africa. While there we ate so many different kinds of curry. Potato curries, and bean curries, and various meat curries. There is even this curry called Bunny Chow that is served inside a loaf of bread. There is a lot of history to the curries in South Africa.
The bunny chow curry is served inside bread because the field workers were not supposed to be eating the foods from their homeland and the plantation owners did not like the smells. The workers decided to hide their curries inside their bread loaves and would carry them out into the fields, and eat them there. It is how they held on to their own traditions. Now you can get them all over in South Africa, and it is a celebrated dish.
Ingredients :
3 1/2 pound(s) chicken
1/4 cup(s) Grace White Vinegar
3 stalk(s) escallion, chopped
1 medium onion, chopped
4 clove(s) garlic, chopped
1 teaspoon(s) black pepper
1 teaspoon(s) scotch bonnet pepper, chopped
4 tablespoon(s) curry powder
3 tablespoon(s) Grace Vegetable Oil
1 teaspoon(s) ginger, grated
3 1/2 cup(s) water
2 teaspoon(s) cornstarch
Directions :
Cut chicken into bite-size pieces and wash in a mixture of Grace White Vinegar and water.
Season chicken with chopped escallion, onion, garlic, black pepper, chopped scotch bonnet pepper and 2 Tbsps. curry powder. Cover and allow to marinate in the refrigerator for about 1 hour or overnight.
Heat Grace Vegetable Oil in a heavy skillet, add remaining curry powder and the grated ginger and allow to "burn" for about 2 minutes.
Add the seasoned chicken and cook stirring for about 5-10 minutes.
Pour in 3 cups hot water or chicken stock, stir then cover and allow to cook for about 40 minutes.
Dissolve cornstarch in remaining half cup water and add to the curried chicken and stir well. Simmer for a further 5 minutes.
TO SERVE:
Serve with steamed rice.
NOTE:
Diced carrots and Irish potatoes may be added following the 3 cups hot water or chicken stock.
Chicken stock: may be made by boiling 1 packet Grace Cock Soup Mix with 4 cups water. Strain and use as desired.