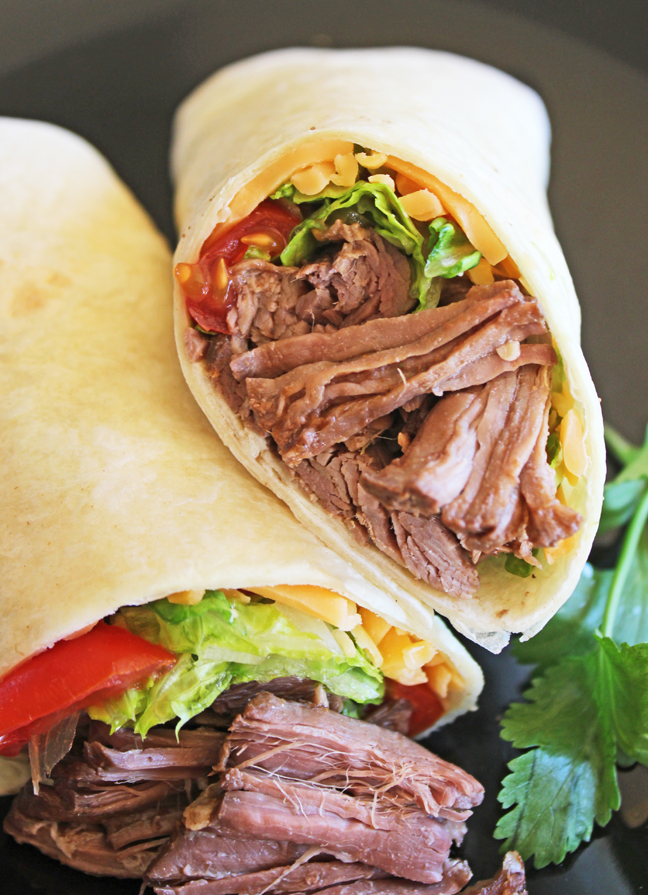 Ingredients
1 (3 pound) chuck beef roast
1 (10 ounce) can green enchilada sauce
1 (8 ounce) can tomato sauce
1 C beef broth
1 Tb cumin
1/4 tsp chili powder
2 cloves garlic, minced
1 Tb butter, melted
1 onion
Instructions
1. Grab a 3 pound chuck roast. Spray a 3 quart crock pot with cooking spray and place the beef inside.
2. Into a large glass measuring cup pour 1 (10 ounce) can green enchilada sauce, 1 (8 ounce) can tomato sauce and 1 C beef broth. Add 1 Tb cumin, 1/4 tsp chili powder, 3 cloves minced garlic and 1 Tb melted butter. Give it a nice stir to combine. Pour it over the top of the beef.
3. Slice 1 onion into thin strips and place them over the top of the beef. Cover and cook on low for 6-7 hours.
4. Remove the onions from the pot.
5. Carefully place the meat on a plate and shred it up with two forks. Place the meat back in the crock pot and cook on high for an additional 1 hour. Serve in tortillas with cheese, sour cream, lettuce, salsa and tomatoes. You could also serve it Cafe Rio style, in a big salad with cilantro lime rice and cilantro lime dressing. You could even turn it into shredded beef enchiladas! Lots of possibilities here!