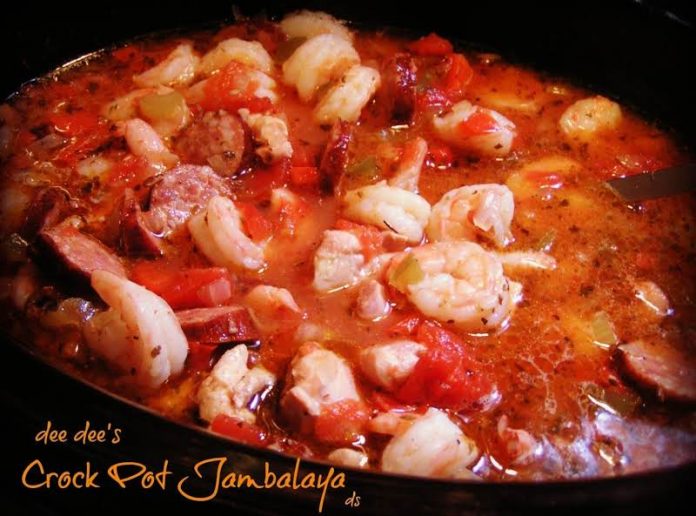 Ingredients
1
 lb chicken breast or thighs, cut in 1-inch pieces
1
 lb andouille chicken sausage (7 links), sliced, or smoked sausage of choice
1 to 2
 lb shrimp, peeled and deveined (the more shrimp the better)
1
 large bell pepper, chopped
3 or 4
 clove fresh garlic, minced
2
 stalk(s) celery, sliced, optional
1
 qt diced tomatoes, or a large (28 oz) can, undrained
1
 tsp cajun seasoning ( mr. pete's or zatarains are both good)
1
 tsp everglades seasoning (can use an add'l tsp of cajun seasoning if you can't find this)
salt, to taste
cooked rice
Directions
1.
 Layer chicken pieces and sausage slices in bottom of crock pot. Peel and devein shrimp; keep refrigerated until ready to add.
2.
 Combine onion, pepper, celery and garlic; layer on top of meat. NOTE: I had every intention of adding celery but I forgot. This Jambalaya was still outstanding.
3.
 Combine tomatoes, broth, wine and seasoning; pour over onion/pepper mixture.
4.
 Set crock pot on HIGH. Cook for 4 hours. Add shrimp the last 20 minutes of cooking time. (You can cook on LOW for 8 hours) NOTE: taste test before adding shrimp; add additional seasoning if desired at this point. I did not find it necessary to add anything extra, flavor was perfect for me.
5.
 To serve, place a scoop of hot rice in a bowl and spoon jambalaya over rice.
Last Step:
Don't forget to share!