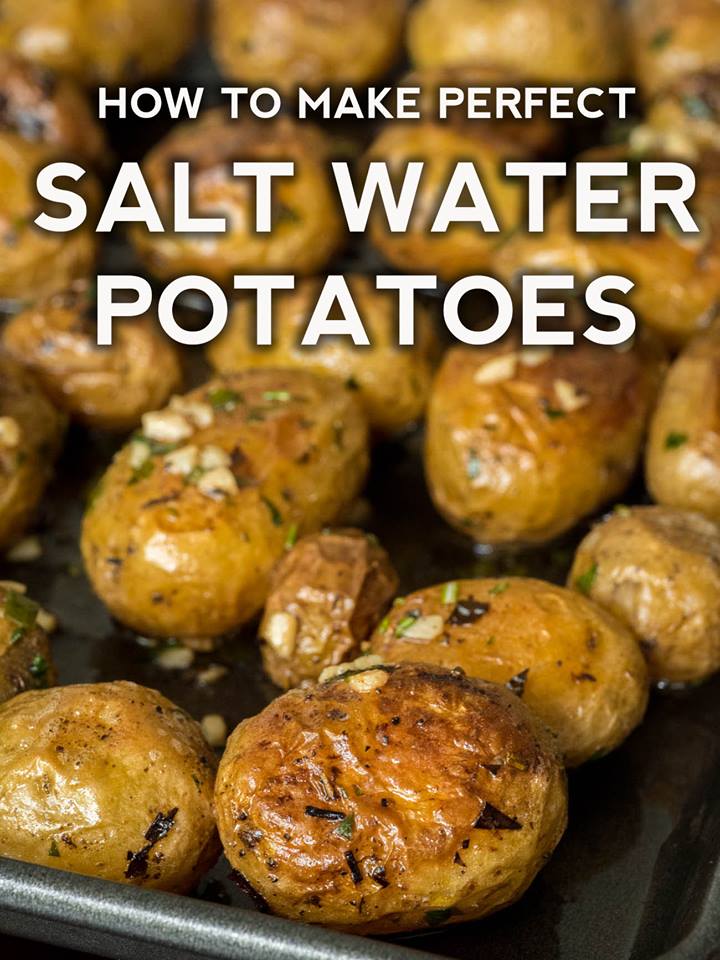 New potatoes. Basically baby potatoes that are perfect, bite-sized gifts from above. We love all potatoes in all different ways, but these little guys and this method of preparing them are just about at the tippy-top of our list of ways to enjoy tots. What is this special method, you ask? Well, instead of just boiling or roasting them, the trick is to salt your boiling water – really go crazy here, you want a. lot. of salt – and then boil your potatoes until the water evaporates.
That's right, this isn't just an "until fork tender" situation, this is a fully committed to cooking off every last drop of water until you're left with beautifully salt-crusted, crystalline potatoes that are different from any others you've cooked before.
While it might seems strange at first, hear us out. Were you to do a side-by-side comparison of cooking potatoes with our new method (boiling off all salted water) and a more normal version of it (just boiling off regular water, no salt), you'd find that the salted water potato, after all the water has evaporated, has a thinner, crispier skin and a much denser, creamier inside than the other potato.
Something about all the salt and boiling off all the water changes the potato into something creamy and dreamy, and that isn't all. Once you've tried cooking them this way – trust us, you'll be hooked – toss you spuds in herbed butter and roast them for 20 minutes. This finishing touch imparts even more amazing flavor and you'll be left with the best crispy-on-the-outside, smooth-and-creamy-on-the-inside potatoes you've ever tried. You'll see.
Salt Water Potatoes
1 hour 30 minutes to prepare serves 4
INGREDIENTS
2 pounds new potatoes, scrubbed and rinsed
1/3 cup kosher salt
3 cloves garlic, minced
1 1/2 tablespoons chives, roughly chopped
1 1/2 tablespoons parsley, roughly chopped
1/2 tablespoon fresh rosemary
1/4 cup (1/2 stick) unsalted butter, room temperature, sliced into pats
Kosher salt and freshly ground pepper, to taste
PREPARATION
Preheat oven to 400º F.
Place potatoes in a large pot and cover with water. Pour in salt and stir together, then bring to a boil.
Reduce heat to low and cook until all water has evaporated and salt film covers all potatoes. Rinse potatoes of excess salt and drain, then transfer to a large bowl.
Combine garlic, chives, parsley and rosemary in food processor (or mince by hand), and pulse until finely chopped.
Add butter to food processor and pulse until mixture is smooth and everything comes together as a paste, then microwave mixture until melted and smooth. Season with salt and pepper.
OR, melt butter and whisk in herbs and garlic.
Once melted, pour 1/2 mixture over boiled potatoes, then transfer potatoes to baking sheet.
Bake for 20-22 minutes, or until lightly browned.
Re-melt remaining herb butter and pour over roasted potatoes, serve hot.