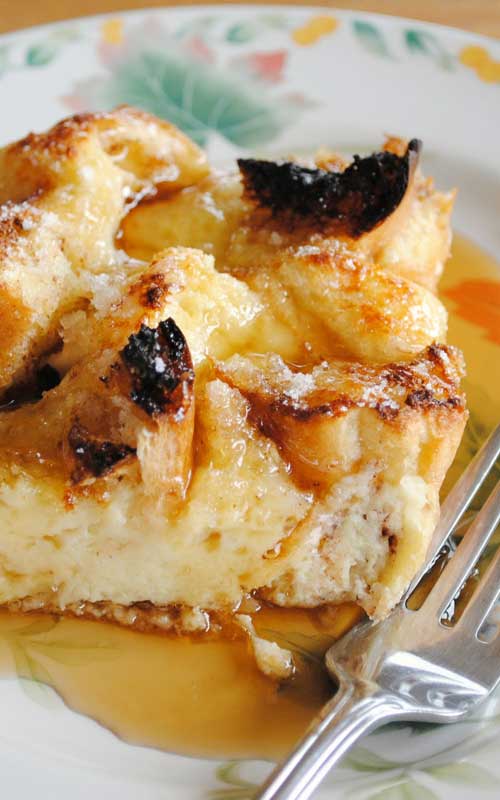 This was great and got good reviews from the whole family!! I did the following substitutions as others had suggested and I think they were dead on. I used 3/4c brown sugar and only 1 Tbls. corn syrup. (Now that I have made this I might sub maple syrup for the corn syrup next time.) I only used 4 eggs and it was plenty "eggy".
I can see what others were talking about. I was able to fit 8 slices of French Bread in the 9″ x 13″ pan. I left the crusts on with excellent results. I would suggest not skimping on the orange liqueur as it definitely added the extra layer of flavor that made it an "over the top" recipe. Our liqueur stores sell small samples of liqueur at the registers, and I was able to buy that for just a couple bucks!! I sprinkled the top with cinnamon before baking.
Would recommend that too. After the casserole was done baking I flipped all the slices over and put the dish under the broiler for just a few minutes to brown the tops until golden brown.
This Creme Brulee French Toast Casserole makes for a fantastic breakfast or brunch treat. Especially because all the prep work is done the night before and you just have to pop it in the oven in the morning.
1 large loaf of French bread
8 large eggs
2 1/4 cups milk
1 cup plus 4-5 T sugar
1/4 tsp salt
2 T vanilla extract
1/4 cup orange juice
2 tsp cinnamon
3 T unsalted butter
Combine eggs, milk, 1 cup sugar, salt, 1 tsp cinnamon, vanilla, orange juice, and 2 T melted butter in a large bowl. Whisk together until well incorporated. Use remaining butter to heavily butter a 9×13 baking pan. Slice bread into 1/2″ thick slices and then cut slices into cubes. Combine remaining cinnamon and 1 T sugar. Add bread cubes to pan and toss with cinnamon sugar mixture. Pour custard mixture over bread cubes, pressing cubes down with a spoon to thoroughly soak bread. Cover with foil and refrigerate at least one hour or overnight.
Preheat the oven to 325 degrees. Bake approximately 40-50 minutes until golden brown and set. Remove from the oven and sprinkle remaining 3-4 T of sugar over the top of the casserole in an even, heavy layer. Set broiler on high and return to oven or use a kitchen torch to caramelize the sugar. The sugar will turn brown and liquefy and then harden as it cools. Serve warm with maple syrup if desired.