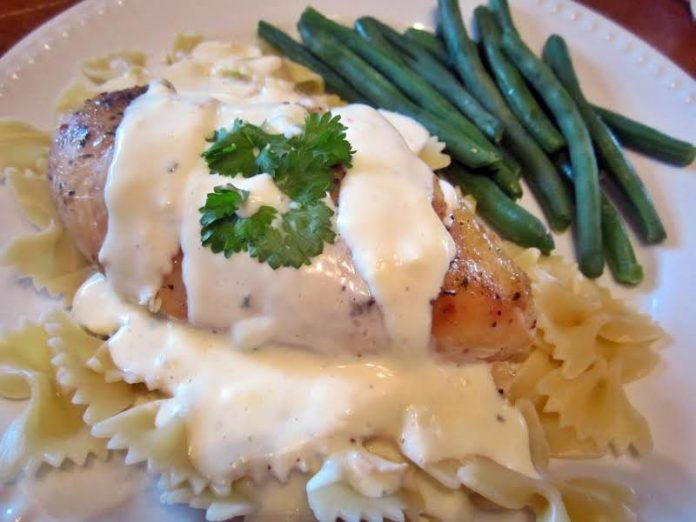 Ingredients
4
 chicken breasts (boneless)
pepper to taste
1
 pkg italian seasoning mix (dry, 1 packet)
1
 Tbsp chicken bouillon granules
1
 pkg cream cheese (8 ounces)
1-2
 clove garlic (crushed)
Directions
1.
 Brush chicken with 1 Tablespoon butter and place in crockpot. Sprinkle with dry Italian seasoning mix.
2.
 Cover and cook on low for 6-7 hours.
3.
 About 45 minutes before done, remove chicken and reserve about 1/2 cup juices in the bottom before return chicken to crockpot.
4.
 Brown the onion in remaining butter in a saucepan and then add the cream cheese, cream and chicken broth.Add crushed garlic and stir all ingredients until smooth. Salt and pepper to taste.
5.
 Pour sauce mixture over chicken in crockpot and cook an additional 30-45 minutes. (Alternatively, you can thicken sauce in the saucepan by adding 1 Tbsp water with 1 Tbsp cornstarch and stir until thickened, then pour over chicken.)
6.
 Remove chicken to platter and pour sauce on top. Serve by itself or over pasta.
Last Step:
Don't forget to share!