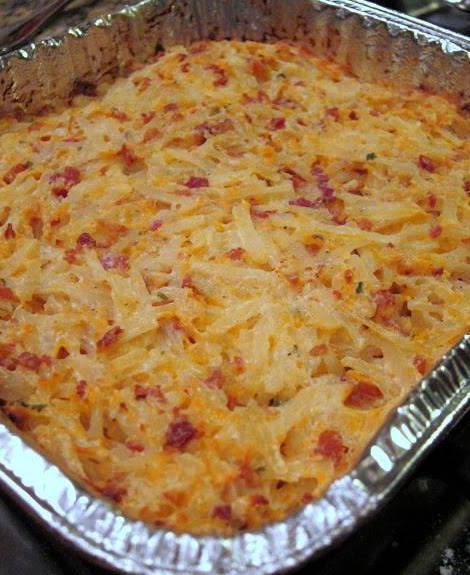 One of our favorite dips is Cheddar Bacon Ranch dip, or what I refer to as "Crack". I usually only make it during football season because it is HIGHLY addictive. I only made this once this football season and I forgot to take it to the tailgate. I left it in my parent's refrigerator! I was devastated!
I took the dip back home and started thinking about what to do with it – other than eat it all by myself. I decided to mix the dip into a big bag of frozen hash browns. The result? A fantastic potato casserole! We absolutely love this! Chicken Legs requests this all the time. I divided the potatoes up into 3 disposable foil pans and froze them so we always have potatoes when we need them. We just finished off the last pan, so I guess I need to add this to my grocery list this week.
Ingredients :
2 (16oz) containers sour cream
2 cups cheddar cheese, shredded
2 (3oz) bags real bacon bits
2 packages Ranch Dip mix
1 large (28 – 30oz) bag frozen hash brown potatoes – shredded kind
Direction :
Combine first 4 ingredients, mix in hash browns. Spread into a 9×13 pan.
Bake at 400 for 45-60 minutes.
Source : allrecipes.com