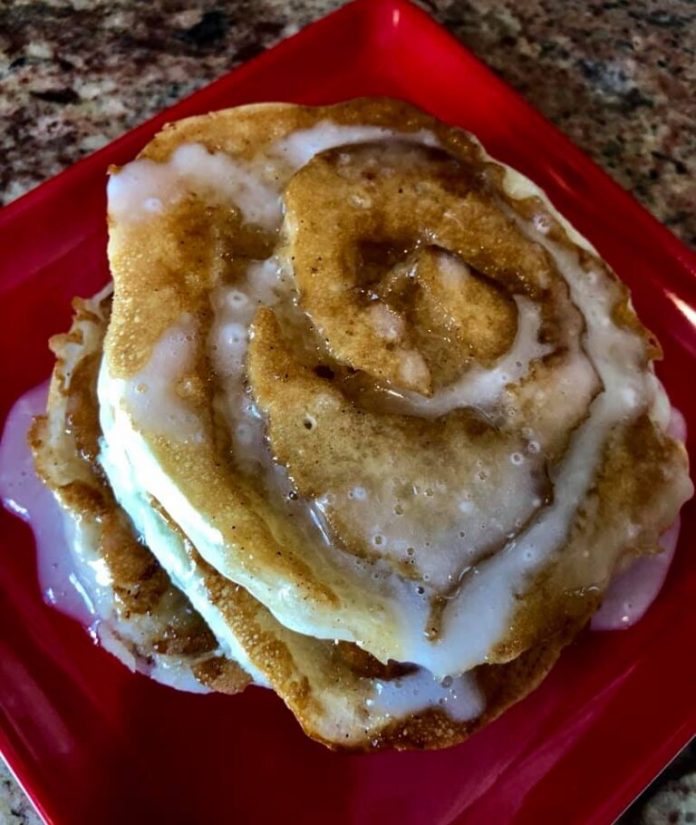 A delicious and very gourmet way to eat pancakes: rolled like spring rolls and garnished with tender apples with cinnamon and caramelized with maple syrup. Irresistible !
* Ingredients:
* For the pancake batter:
° 250 g of flour
° 2 large eggs and 3 small
° 1/2 liter of semi-skimmed milk
° 1 tablespoon of oil
° 1 tablespoon of sugar
° 1 pinch of salt
* For garnish :
° 2 apples
° 20 g of butter
° 1/2 teaspoon ground cinnamon
° 2 tablespoons of maple syrup or honey
° 1 little baking chocolate
* Preparation:
1 _ Prepare the pancake batter: Pour the flour, sugar and salt in a bowl. Combine and scoop in the center. Add the 2 whole eggs and the oil and start to mix with a whisk. Add about 1 third of the milk, mixing until you get a smooth paste. Add the rest of the milk all at once and mix well so that no lumps remain. Film and let stand 1 hour.
2 _ Prepare the garnish: Peel and seed the apples. Cut them into small cubes. Heat a little butter in a small saucepan or frying pan. Add the diced apples, cinnamon and maple syrup or honey. Cook over low heat, stirring often, until the apples are tender. Reserve.
3 _ Make the pancakes: Heat a crepe maker over medium heat (lightly greased if it is not non-stick). When it is hot, pour a small ladle of the dough and spread it to obtain a very thin pancake. Cook for 1 or 2 minutes: the pancakes should be just cooked, if they are too golden, they will become crunchy and will be hard to roll. Place the pancakes as you go on a plate and cover them with aluminum foil to keep in the heat and humidity.
4 _ Garnish and roll the pancakes: Place a pancake on the work surface or on a plate. In the center of the pancake, place a tablespoon of apple filling. Fold the right side over the center, then the left side. Roll the pancake like a spring roll, holding the filling well. Place the pancake rolls on a serving platter. Melt 1 or 2 pieces of dark chocolate and using a cone, trace chocolate streaks on the rolled pancakes.
ENJOY !!