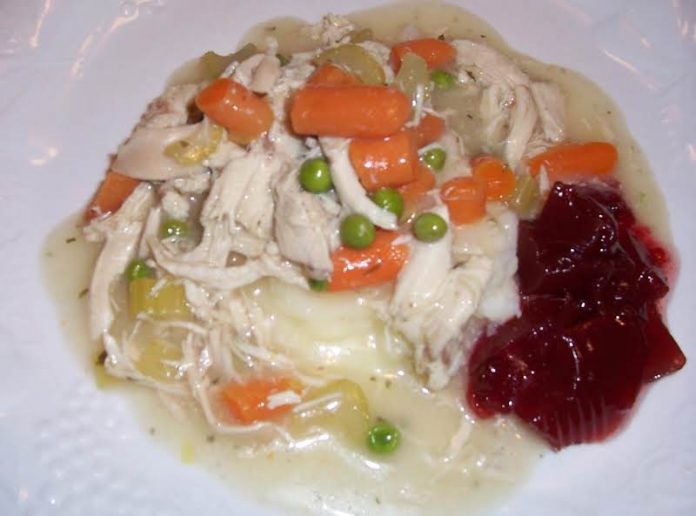 Ingredients
1-2
 chicken breast meat or dark meat
1
 can(s) low sodium chicken broth
4-5
 stick of celery stalks
1
 bunch of baby carrots ( cut up)
all the amounts vary depending depending on your family size.
THICKEN WITH FLOUR AND MILK MIXED TOGETHER, AMOUNTS DEPEND ON HOW MUCH YOU MADE.
Directions
1.
 I boil the chicken pieces in one can of broth, and enough water to cover chicken, I add celery pieces and onion for flavor. Simmer for 20-30 min. or until fully cooked. When fully cooked, strain the broth water and pour into a deep fry pan. Put your diced carrots, celery and diced onions in and simmer til tender. When chicken is cool enough and veggies are tender, shred the chicken pieces and add to pan. I add some parsley and lemon pepper spice and a little celery seed to it.
2.
 Now I thicken it with 1/3 cup of water and 2-3 tablespoons of cornstarch mixed and pour into pan stirring as you add, if it doesn't thicken it enough you can add more cornstarch and water mixture til you get the right thickness, I sometimes add a can of cream of chicken soup as well. All the amounts of ingredients are subject to how much you want to make of course. I put this mixture over rice, mashed potatoes, toast, noodles or sometimes in small aluminum pie plates with a biscuit on top, or fill a pie plate with mixture and put biscuits or pie crust on top. Serve with biscuits and cranberry sauce.
Last Step:
Don't forget to share!