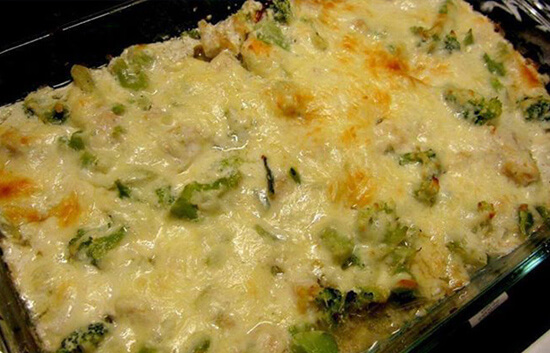 How To Make This Chicken Rice Casserole
This easy dish comes together in 30 minutes and it's extremely easy to make. Start by cooking the chicken with the onion first until it's no longer pink inside. Add the broth and cream of chicken soup then add the rice and cook the rice.
The rice should take about 15 minutes to cook, depending on what type of rice you used. You could use instant rice to speed this up. Brown rice will take a lot longer to cook.
Add in the broccoli and cheese and continue cooking for a couple more minutes until the broccoli softens.
Top with more cheese and cover with the lid so that the cheese melts. The chicken is incredibly tender and juicy and the rice is perfectly cooked. Totally delicious!
Ingredients
3 cups cubed chicken
16 oz (1lb) bag of frozen broccoli
1 med onion diced (about 1 cup)
2 cups shredded mozzarella cheese
1 tsp garlic powder
1 cube chicken bouillon (or 1 tsp bouillon powder)
1/2 cup water (optional, I added this to help disperse the chicken flavoring but the water from the veggies as they cook also would suffice if the dish seems too watery to you)
1 Tbspn olive oil
1/4 tsp pepper (or to taste)
1/4 c sour cream
1 cup ricotta
Bacon Grease
Directions
Grease a 9 x 13 inch casserole pan – I used left over bacon grease for added flavor, pan spray would be okay too (just maybe not as tasty ;))
Add broccoli, onion, chicken bouillon, water, olive oil and pepper to a medium frying pan.
Cook covered for about 10 minutes. Stir occasionally.
In a medium bowl mix the chicken chunks, garlic powder, sour cream and ricotta cheese together. Mix till blended.
After 10 minutes of cooking the veggies, pour the broccoli mix into the bowl with the chicken. Stir until blended.
Add 1/4 c of the shredded mozzarella cheese to the mix. Stir.
Transfer your mix to the greased pan and spread evenly.
Add the remaining mozzarella cheese to the top and pop that baby in the oven!
Bake at 350 degrees for 50 – 60 minutes.
Once the top layer of cheese is browned a bit it should be done.
If you like your broccoli on the softer side bake until the florets are to your liking.
Serve warm and enjoy!