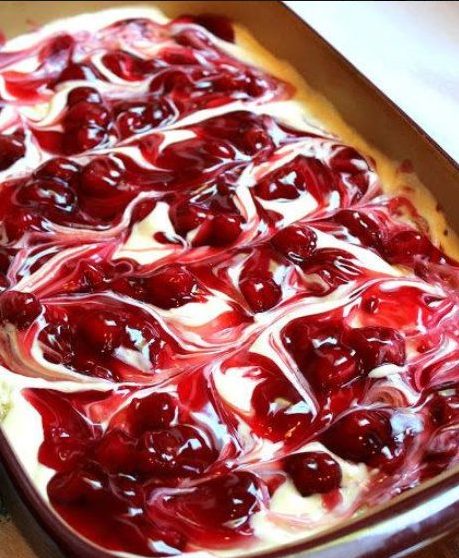 Ingredients:
2 packages shortbread cakes (or 1 Angel food cake)
2 (8 oz.) packages cream cheese, softened (can use fat free)
1 (16 oz.) container sour cream (can use low fat)
2 sm. boxes vanilla instant pudding (can use fat free/sugar free)
1 large can cherry pie filling
Directions:
Make pudding as directed on box, chill.
In separate large bowl, blend cream cheese and sour cream until smooth.
Fold in pudding, blend on low until smooth.
Cut bread into 1/2 inch pieces and cover bottom of 9×13" pan.
Pour cream mix over bread, smooth out evenly.
Top with spoonfuls of cherry pie filling. Use a knife to swirl it through the cream filling.
Refrigerate for one hour. Enjoy!!