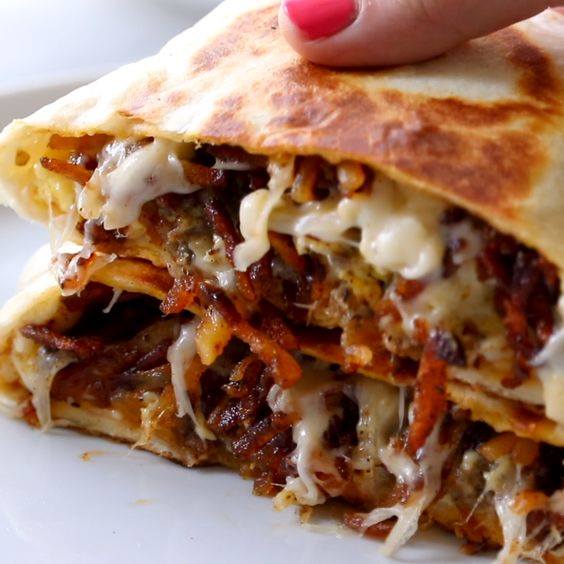 Looking for amazing cheesy ground beef quesadillas!!!!
You have come to the right place
Well, seasoned ground beef, crispy golden, and lots of cheese, brownish exterior make these quesadillas simply irresistible! They are sure to become a favorite in your house as they are in ours.
INGREDIENTS
½ teaspoon oregano
½ tablespoon olive oil
1 pound ground beef (I use 'extra lean')
1 teaspoon chili powder
1 teaspoon chipotle chili powder
½ teaspoon black pepper
½ teaspoon cumin
½ teaspoon garlic powder
½ teaspoon salt
½ teaspoon onion powder
¼ teaspoon cayenne pepper powder (or to taste, optional)
1 tablespoon tomato paste
2 tablespoon unsalted beef stock/broth
12 ounces shredded cheese blend (about 3 cups (or combination of cheddar, pizza mozzarella, and Monterey Jack))
6 flour tortillas
oil or Cooking spray (to grease pan)
INSTRUCTIONS
Preheat oven to 180 degrees Fahrenheit (to keep quesadillas hot while cooking batches).
Heat olive oil in a pan (I used a non-stick pan) over average heat.
Once the oil is hot, add ground beef, chili powder, chipotle powder, oregano, cumin, garlic powder, onion powder, salt, pepper, and cayenne pepper powder (if using). Heat until cooked through, breaking into crumbles with a wooden spoon, around 10 to 12 minutes or so. Mix in tomato paste and stock/broth and cook 1 to 2 minutes more.
Push beef from the pan in a bowl. If there is any excess fat
drain/remove.
Spread about 8 ounces (or 2 cups) of cheese among all tortillas  (on one side of them).
Note: Reserve the remaining 4 ounces (or 1 cup of cheese).
Also, if your tortillas are smaller or bigger than the size I used, the quantity you produce may vary.
Distribute ground beef on top of the cheese. Then, spray the remaining 1 cup of cheese on top of ground beef. Wrap tortilla up so you have a half-moon shape.
Working in batches (about 2 quesadillas per batch), spray cooking spray into the pan and cook quesadillas (over medium-low heat) for about 2 minutes per side until golden brown and cheese is melted carefully watching and turning to ensure they don't burn. While remaining batches, place cooked quesadillas on a baking sheet in preheated oven to keep warm.
Cut each half-moon (quesadilla) in half. Serve with salsa, guacamole, and/or sour cream. Enjoy!
Note:
If you have any leftovers, properly store them in an airtight container in the refrigerator and use them within 2 to 4 days, reheating when ready to enjoy.