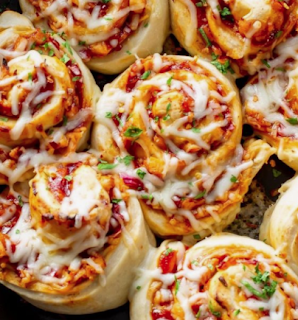 9 ingredients
Meat
3 slices Bacon
1 cup Chicken, cooked
Produce
1 Parsley, fresh leaves
3 tbsp Red onion
Condiments
1/2 cup Bbq sauce, sweet
Baking & Spices
1 lb Pizza dough, fresh frozen or refrigerated
1/4 tsp Red pepper flakes
Oils & spoonfuls of vinegar
1 tsp Vegetable oil
Dairy
1 1/4 cups Mozzarella cheese, part-skim
If frozen, follow directions for thawing your pizza dough. If utilizing refrigerated dough, place in a well-oiled bowl, cover, and let him come to room temperature, 1 to 2 hours.
Lightly oil a large 9 or 10-inch round skillet or baking pan. Cast iron skillets work well for pizza. Set aside.
Preheat the furnace to 400 degrees F. Carefully flour a clean work surface and roll out the room temperature pizza dough to an 18×10-inch rectangle. If the dough springs back and won't hold its shape, let it rest an additional 5 minutes, then roll again. Spread the BBQ sauce over the surface of the dough leaving a 1/2-inch border all around the edges.
Spray 1 cup of the mozzarella cheese equally across the surface of the dough, then top with the chicken, onion, red pepper flakes, and bacon, if using.
Beginning on the long side, roll the dough away from you into a tight cylinder, tucking and pulling just a bit as you go. Pinch the seams together to seal. Slice into 8 equal slices and place cut side down in the prepared pan. When cutting try using dental floss instead of a knife. It works amazingly well!
Bake for 25 minutes in a preheated 400 degrees F furnace. Sprinkle the spare mozzarella cheese on top and stay baking for another 5 minutes or until the cheese is melted.
Decorate with fresh parsley and serve immediately with additional BBQ sauce for dipping.