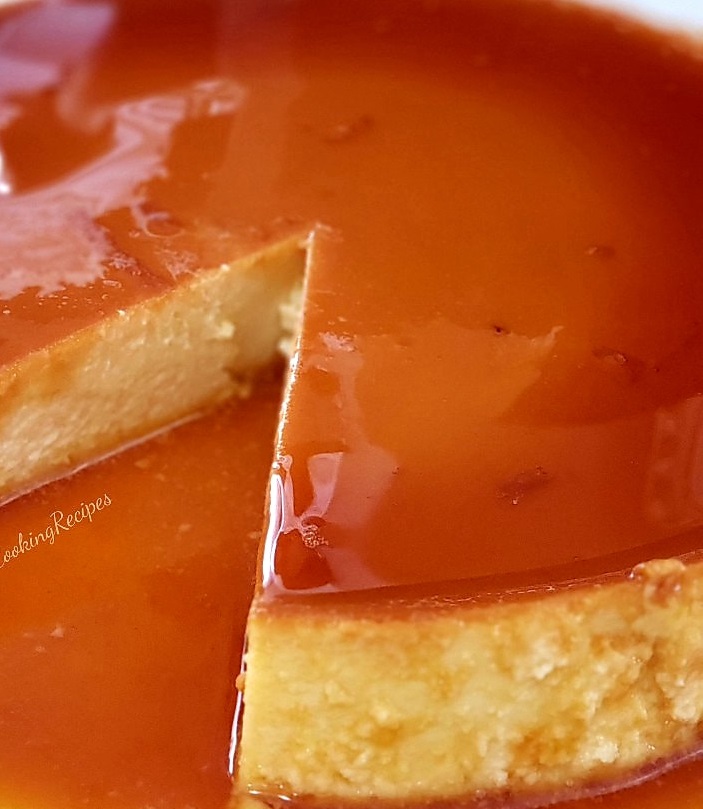 CHEESECAKE FLAN RECIPE
Ingredients:
1 cup granulated sugar
1 package, 8 oz cream cheese, room temperature
5 large eggs, room temperature
2 tsp vanilla extract

1 can, 12 oz 

evaporated milk
Procedure:
Preheat oven to 350 F.
In a small saucepan add sugar. Melt over low-medium heat, stirring occasionally until golden.

Remove from heat and pour the hot caramel into the bottom of a

 

8″ or 9″ inch round pan

.

 Swirl the pan to spread evenly. Set aside and cool completely.
In a large bowl, beat cream cheese until smooth.
Add eggs one at a time, beating well after each addition.
Add vanilla extract, evaporated milk and sweetened condensed milk. Mix well until combined.
Skim off the foam using a spoon or spatula or pour the cream cheese mixture through the strainer over the pan with caramel.​
Place the pan in a larger pan with hot water about halfway up the sides of the pan.
Loosely cover the pan with foil. (only during the first 45 minutes).
Bake for 60 to 75 minutes or until set. (Toothpick can be inserted into the center  and must come out almost clean.
Remove the pan from water and cool completely on a cooling rack.
Cover and refrigerate for at least 4 hours or better overnight.
Run a knife around the edges of the cake to unmold and invert onto a serving plate. ​
Serve and enjoy :)​
Please see important notes below.
Important notes:
You want a nice golden caramel so do not burn the sugar or it will taste bitter.
Make sure that the caramel has already cooled down before transferring the cheesecake mixture.
Cover with foil to avoid burning the top. (Only during the first 45 minutes of baking time.
Oven temperature varies. Always check before the set time.
Skimming off the foam on top of the mixture or straining will avoid bubbles in your flan.
Mine took about 75 minutes to bake and it was perfect 🙂
This can also be steamed for one hour or until toothpick test comes out clean. Make sure to cover the plan tightly with foil the entire time while steaming.
Recipe makes about 8-12 servings.
Enjoy.