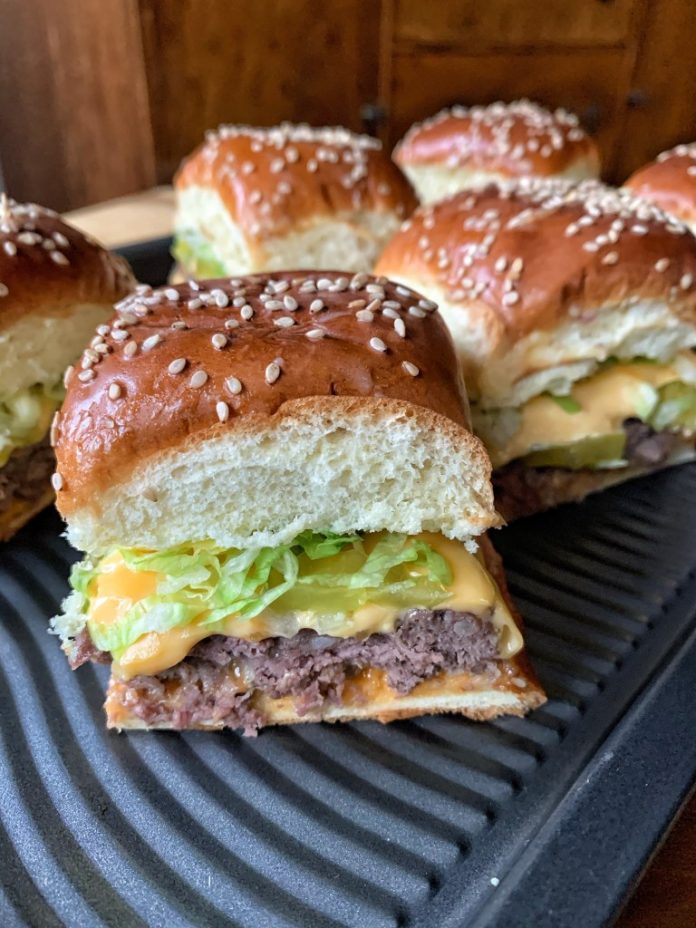 These cheeseburgers are super easy to make and are always a hit. Bring them to a party, make them for dinner for something fun and different, or serve them on game day.
Ingredients
1 package of 12 Dinner Rolls
2 lbs of Ground Beef
1 Small Yellow Onion, Minced Fine
12 slices of Kraft American Cheese
1 Cup of Shredded Lettuce
12 to 15 Hamburger Dill Pickles (slices)
1/3 C of Thousand Island Dressing
2 eggs, whisked
1 T of Toasted Sesame Seeds
1 T of Butter, melted
2 t of Salt (or to taste)
2 t of Garlic Powder
1 t of Black Pepper
2 T of Minced Onion
Instructions
In a bowl, combine your ground beef, chopped onion, salt, pepper, garlic powder, and egg. Do not over-mix. Stir just until well blended. You can adjust the seasonings to your liking. Some people like more or less salt and pepper.
Divide the meat mixture in half and form two rectangles slightly larger than 6 of the rolls. You want to shape the rectangles so that when the meatloaf is cooked, it can be placed on 6 of the rolls while the rolls are still in two rows of three side by side. Just like the buns that come out of the package.
I place the two rectangles on a baking sheet and like to sprinkle them with a little more chopped onion. Make sure the thickness is fairly even so they cook evenly. Bake for 12 minutes at 350 degrees. Every oven is different, so make sure the meat isn't overcooked or undercooked.
While the meat is cooking, divide the two sets of six rolls down the middle. So that you have bottoms and tops.
I put about two tablespoons of thousand island dressing on each of the bottoms and place them on top of the rolls.
When the meat is done, you can wipe off the excess fat with a paper towel. Next, place the meatballs on each of the bottoms of 6 rolls. Spread the two meatballs with thousand islands.
Unroll the cheese slices and place them on top of all the meatballs. Place the tray back in the oven and allow the cheese to melt. This will only take a minute or two.